St John's, Antigua – Off-spinner Shane Shillingford is making encouraging progress as he makes a bid to return to competitive cricket. The 28-year-old from Dominica has had several sessions under the watchful eyes of the coaches at the Sagicor High Performance Centre (HPC), after he was taken out of the game for a suspect bowling action late last year.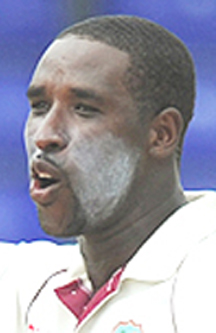 WICB CEO Dr Ernest Hilaire gave an update on Shillingford's progress, and said everyone has been impressed with his commitment and dedication, as he seeks to return to competitive cricket.  "A lot of work has been done with him. He has been at the HPC learning a new action and a new run-up. He has been video-taped regularly, assessed, analysed and he has one more session before he can actually participate in a match. Of course, once the umpires are satisfied with what they see, we will apply at the ICC for a review for him to re-enter international cricket."
Dr Hilaire was speaking during an interview with the Antiguan media on Monday.  He added: "He (Shillingford) has been very committed, very dedicated. His personal coach from Dominica has also been with him to the HPC to see the programme to go back Dominica and help him to implement the remedial work. Thomas Kentish, the former Windward Islands and Combined Islands spinner has been doing a lot of work with him and we are very happy with the kind of work Shane has put in as he tries to make a return to international cricket."  Shillingford made his international debut against South Africa last year and also toured Sri Lanka at year-end. He has played five Test matches, taking 14 wickets.
"We had hoped that he would probably play this weekend [WICB First-class semi-final]. It depends on the HPC coaches telling us when they think he's ready. We are not rushing it. We want to take our time, we want to make sure he goes through all the fundamentals before we put him back into competitive cricket."
Around the Web