LONDON,  (Reuters) – Andrew Strauss delivers a  spirited defence of his preference for a four-man attack in his  latest book, asserting that research shows England win more  matches with an extra batsman than they do with a fifth bowler.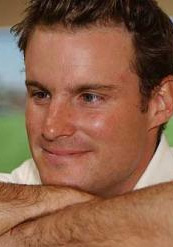 Seven series wins and a creditable draw in South Africa  since Strauss took over as captain have justified a strategy  that will be tested to the full in the four-test series against  India starting at Lord's on Thursday.
Even without explosive opener Virender Sehwag, who will miss  the first two tests with a shoulder injury, India possess a  batting lineup crammed with class, experience and sheer weight  of runs.
India field three great batsmen in Sachin Tendulkar, Rahul  Dravid and VVS Laxman with an excellent support cast including  Gautam Gambhir and captain Mahendra Singh Dhoni, their two  heroes in the World Cup final triumph over Sri Lanka in April.
If England are to take the official world number one ranking  from India, they need to win the series by at least a two-match  margin. The responsibility for capturing the necessary 20  wickets in a match twice will fall to James Anderson, Chris  Tremlett, Graeme Swann and, in all likelihood, Stuart Broad.
Anderson came of age last year, deploying seam movement and  reversing the old ball in addition to his whippy late swing.  Swann, one behind Anderson in third place on the world rankings,  is the world's best slow bowler, a naturally aggressive  off-spinner who gives the ball a ferocious tweak but who can  also play a containing role.
Tremlett's pace and bounce have made him an automatic choice  since he forced his way back into the side in Australia and the  choice for the remaining bowling spot at Lord's lies between  Broad and Tim Bresnan.
  BUILD UP PRESSURE   
Broad, the national Twenty20 captain, was left out of the  England side for the final one-day game against Sri Lanka and  a  county match for Nottinghamshire against Somerset proved, in  effect, a test trial.
Watched closely by national selector Geoff Miller, Broad  took five for 95 in Somerset's first innings which was enough to  retain a place in the test squad and all indications are that he  will be in the final XI.
"There were signs he was getting back to where he was," said  Miller. "We know what he is capable of doing and when he puts on  that England shirt we feel sure he will show exactly that and  produce the goods and make if difficult for India."
Broad's pedigree is undoubted and he won the Ashes back for  England at the Oval two years ago with a splendid spell  including four for eight in 21 balls.
But his bowling average after 107 wickets from 37 tests has  crept over 36 and he took only eight wickets in three tests  against Sri Lanka.
Broad still looks likely to win selection ahead of the  reliable Bresnan because of his height and ability to extract  nasty bounce, as he showed when he ruffled the Indian batsmen  during the 2009 Twenty20 World Cup.
Around the Web