LONDON, (Reuters) – England required nine further  wickets to take a 1-0 lead in the four-match series against world number one side India at the close of the penultimate day of the first test at Lord's yesterday.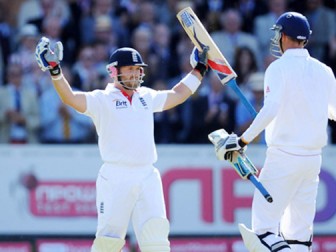 After wicketkeeper Matt Prior had completed his sixth test century India, set 458 to win, were 80 for one with a maximum 98 overs to be bowled on today's final day.
Prior (103 not out) and Stuart Broad (74 not out) added 162 for the seventh wicket before Andrew Strauss declared his team's innings closed for the second time in the match on 269 for six.
The highest total to win at Lord's remains the 344 for one scored by West Indies in 1984 while the biggest winning total anywhere is West Indies 418 for seven against Australia in 2003.
England, who have won four of their last 10 series at Lord's with six draws, can take over from India at the top of the world rankings if they win the series by at least a two-test margin.
"I think we are probably just ahead," Prior told a news conference. "That's a huge amount of runs to get when the ball gets a bit older."
India opened with first innings centurion Rahul Dravid in place of Gautam Gambhir, who left the field after he was hit painfully on the left arm at short-leg after a full-blooded sweep from Prior.
An X-ray showed there was no fracture and he is expected to be fit to bat today. Paceman Zaheer Khan, who left the field  with a strained hamstring on Thursday's opening day, was again  absent.
To add to their woes, Sachin Tendulkar, still one short of his 100th international century, has to wait until 258 minutes of the Indian innings has elapsed or the fifth wicket has fallen before he can bat as he was absent from the field for most of the day because of a virus infection. He still has to wait for around two hours 20 minutes today.
Prior, who scored 71 in the first innings, demonstrated his value again at number seven.
Genuine quality
His second 50 took only 42 balls, including a pulled six off  Suresh Raina's occasional off-spin. Broad, who recorded his  highest test score of 169 in last year's Lord's test against  Pakistan, also played an innings of genuine quality with one  dazzling off-drive to the boundary.
The pair scored at just under a run a ball although India  were merely going through the motions in the latter stages of  the partnership as they waited for the declaration.
Dhoni was reduced to bowling himself for the third time in  the match, while Dravid donned the wicketkeeper's gloves and  pads, in partnership with Raina to a widespread field.
It was Prior's third test century at Lord's and his second  this year. He has now scored more runs than any other English  wicketkeeper at the home of world cricket.
Ishant Sharma, who conceded 128 runs without taking a wicket  in England's first innings, rocked England in the morning  session with three wickets in 16 balls to reduce the home side  to 62 for five.
The loose-limbed paceman, his long black hair flopping in  the sunlight, dismissed Kevin Pietersen (1), Ian Bell (0) and  Jonathan Trott (22). He followed up with the wicket of Eoin  Morgan (19) after the interval.
Pietersen, England's first innings hero with an unbeaten  202, edged a steepling delivery to Mahendra Singh Dhoni behind  the stumps. The same combination accounted for Bell in the same  over, nibbling fatally outside the off stump.
Dhoni did not call on Sharma until 11 overs had been bowled  after the lunch interval when he accounted for Morgan for 19,  caught by Gambhir diving forward at mid-wicket after he failed  to get hold of a pull shot. Sharma said he had told Dhoni at  lunch that he would like a rest after bowling 11 overs in a row.
Broad, who took four for 37 in India's first innings, struck  with the third ball of his first over on Sunday evening, bowling  Abhinav Mukund (12) for the second time in the match. On both  occasions the batsman dragged the ball on to this stumps.
Dravid continued where he had left off in his undefeated 103  in the first innings to reach 34 not out with adroit footwork to  negate any threat from England's only spinner Graeme Swann.  Vangipurappu Laxman, who stroked Chris Tremlett for three  successive boundaries, was on 32.
Around the Web