Bakery giants Bakewell of 5-9 Drive, Miller St., Triumph, East Coast Demerara, has joined forces with the Guyana Floodlight Softball Cricket Association (GFSCA) to sponsor the next nationwide male/female softball tournament, set to kick off on August 28.
Games will be played throughout the country in three categories, Male Open (15/15), Male Over-40-years old (25/25) and Female Open (10/10).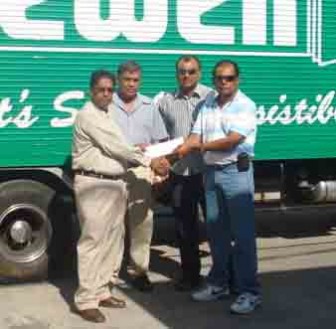 The tournament's opening match will be played on  August 21 at the Albion Sports Complex between popular Demerara team "Floodlights" and Albion Masters.
All three softball finals are set for November 27.
The winners and runners up in all three categories  will receive $75,000 and a trophy and $25,000 and a trophy respectively.
The player of the match in final and player of the series will each receive $10,000 and a  trophy.
According to a release from the organizers,  participants must note that only the Yellow Supreme balls with the marking "Floodlight" will used in the tournament.
A notable feature for the competition will be the fact that round arm and flick bowling will be allowed.
According to the release:"This is being done due to the fact that the GSFCA is gearing up for an International Softball Tournament on October 28th, 29th, and 30th, where any under arm bowling will be eligible."
The release stated that the tournament will be called the "Guyana Cup Open" and "Guyana Cup Masters," respectively adding that teams from New York, Schenectady, South Florida, Orlando, Canada and Trinidad are expected to be here to  battle against several top Guyana softball teams.
Around the Web