A solid all round performance by Guyana Under-19 player Clinton Pestano inspired defending champions Lower Corentyne to successfully defend their Diamond Fire & General Insurance Under-19 Inter-zone title at the Port Mourant Cricket Ground recently.
Lower Corentyne defeated New Amsterdam/Canje on first innings to capture the winning prize of $50,000 and the championship trophy.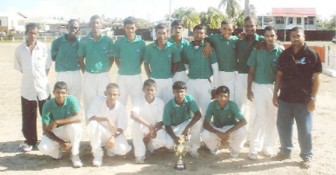 Batting first after winning the toss, Lower Corentyne scored 205 in 59.2 of their allotted 60-overs for the first innings.
Pestano top scored with 46 (3×4, 1×6) and received support from Kandasammy Surujnarine 25, Dominic Rikhi 42, Shawn Pereira 30 and Shailendra Shameer 20. Bowling for New Amsterdam/Canje left arm spinner Trinson Carmichael grabbed 6 wickets for 44 runs and off spinner Kevin Ramdeen 2 for 55.
In reply, New Amsterdam/Canje was bowled out for a meagre 102 in 38 overs with only Andel De Jonge 31, Romario De Jonge 29 and Tregon Henry 17 reaching double figures.
National leg-spinner Gudakesh Motie-Kanhai 2 for 15, Shawn Pereira 2 for 8, Pestano and Lloydel Lewis 2 for 21 were the wicket-takers for the hosts. Batting a second time with a lead of 105 runs, Lower Corentyne were dismissed for 177 with Motie-Kanhai 35, Bhojnarine Persaud, Pestano 21 and Jamal Jarvis 24 being the principal scorers. Off spinner Joemal la Fleur 3 for 31 and Carmichael 2 for 25 led the New Amsterdam/Canje bowling attack.
Needing to score 282 to win in less than two hours to record a comeback victory, New Amsterdam/Canje reached 50 for 3 before the game was called off early. Kevin Ramdeen top scored with 26. Pestano took 2 wickets for 24 while off-spinner Bhojnarine Persaud took 1 for 1. The winning team took home $50,000 and trophy and the runner-up $30,000. Man-of-the-Final was  Pestano.
Public Relations Officer of the Berbice Cricket Board Hilbert Foster hailed the tournament as a success and expressed gratitude to the management and staff of Diamond Fire & General Insurance for their continued investment in Berbice cricket.
Foster also urged the young cricketers to continue to work on their game and always to be disciplined, focused  and dedicated.
Berbice Manager of Diamond Fire & General Insurance, Phillip Kowlessar, hailed the BCB for hosting a successful tournament and promoting the business of the company in Berbice. Kowlessar pledged his company's continued involvement in Berbice cricket stating that they were impressed by the way the game was run in the county. He also urged the young cricketers to make sure that they place emphasis on education as it was the foundation to a successful future.
Around the Web