Co-defending Regional limited overs champions the Leeward Islands, who tied with Barbados at Sabina Park in last year's final, and the Windward Islands are expected to arrive in Guyana today for their acclimatization camp ahead of the Regional Super50 one-day tournament scheduled to bowl off from October 19 – 29.
According to a Guyana Cricket Board official, the Windward and Leeward Islands will play each other in two 50-overs-a-side games, starting at 9:00 am at the Demerara Cricket Club (DCC) Ground on October 14 and 17, while the Windwards have an additional practice game versus a Georgetown XI, also at DCC on October 15.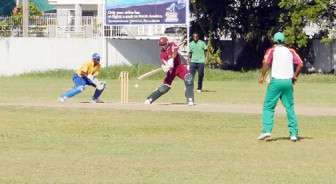 The Leeward Islands have been drawn in Group B along with Caribbean Twenty20 champions Trinidad & Tobago, regional first-class champions Jamaica, and the Combined Campuses & Colleges. The Windwards are in Group A with hosts Guyana, Barbados and the Sagicor High Performance Centre (HPC).
Leeward Islands Squad – Javia Liburd (captain), Jaison Peters, Steve Liburd, Chesney Hughes, Montcin Hodge, Jacques Taylor, Lionel Baker, Jahmar Hamilton, Justin Athanaze, Orlando Peters, Mali Richards, Austin Richards Jr., Gavin Tonge, Jason Campbell.
Windward Islands Squad – Devon Smith (captain), Johnson Charles, Craig Emmanuel, Andre Fletcher, Xavier Gabriel, Denis George,, Kevin James, Keddy Lesporis, Garey Mathurin, Nellon Pascal, Keon Peters, Dalton Polius, Liam Sebastien, Hyron Shallow.
Meanwhile, the Guyana national cricket team continued its preparation with a day of simulation batting practice at the DCC Ground yesterday.
The team recently welcomed back all-rounder Christopher Barnwell to the camp after his tours with the West Indies team in England and Dubai. Coach Mark Harper put all the respective batsmen in the squad to bat in pairs, in which the scenarios of a 50-overs match were played out.
In power-play batting scenario of the mandatory first 10 overs, the openers in the team were encouraged to bat cautiously in the first two to three overs, before then aiming to score at least 40-60 runs by the end of this period.
Then in other blocks of five overs, that now must be taken between overs 16-40, instead of the last five overs, which many international teams have chosen to use since power-play was introduced to limited overs cricket in 2005. This is according to the new ICC rules on one-day international cricket that will be implemented during the Regional one day tournament.
Harper instructed the national batsmen to be aggressive with their stroke-play and running between the wickets.
Guyana have another practice session at Providence stadium today, ahead of their third practice match at the DCC tomorrow.