The eighth edition of the gruelling Wheat Up Cycle Road race sponsored by National Milling Company (NAMILCO) organized by Roraima Bikers Club will take place tomorrow (Caricom Day) on the East Bank of Demerara.
Most of the country's top cyclists will battle for supremacy in the 65-mile event which starts at Agricola and will proceed to Long Creek on the Linden Soesdyke Highway and return to finish in front of Two Brothers Gas Station at Eccles for the senior riders.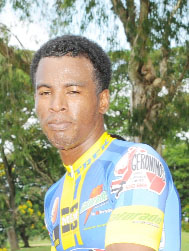 The veterans, junior and female cyclists will journey to the Linden Soesdyke junction before returning to Eccles for the finish.
The race will pedal off at 08:00 hours and Managing Director of NAMILCO Bert Sukhai and other senior officials of the company have been invited to be present for the start of the event and assist in the presentation of prizes.
Last year's winner Ian Jackson is expected to be back in contention and will be looking for a back-to-back win but the other senior riders will have other ideas.
He will face stiff competition from the inform Warren "Forty" Mc Kay, Marlon "Fishy" Williams, Walter Stuart-Grant, Christopher Persaud, Jude Bentley, Darren Allen and Stephen Fernandes.
The veteran category will also be interesting with riders including Raymond Newton, William Blackman and Kenneth Lovell.
The junior and upright category will feature Neil Reece, Paul De Nobrega, Kester Croal and Rickey Kissoon while current national female champion Hazina Barnett will lead the women's challenge.
President of Roraima Bikers Club, Brian Allen, disclosed that preparation is at an advanced stage and cycling fans can expect an exciting race programme.
Prizes will include trophies and cash for the senior and veteran riders while the juniors will battle for trophies.
Around the Web