At a simple ceremony yesterday ScotiaBank and Pepsi, sponsors of the Guyana Sports Development Foun-dation's (GSDF) Schools Football Academy handed over equipment to the eight participating schools.
Present at the ceremony were representatives of the two major sponsors, Chief Education Officer Olato Sam and representatives of the schools.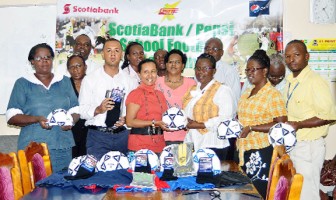 ScotiaBank's Marketing Manager Jennifer Cipriani said, "This venture of providing equipment for the schools is small, yet very significant. It begins the first phase in the preparation of the tournament which follows the academy."
She said they are very excited at the response and the event is progressing as expected.
Pepsi Brand Manager Marlon Gravesande said the equipment will benefit the schools and he hopes the players make the best use of it.
The equipment includes uniforms, balls, markers among other gear. "Pepsi urges people to push themselves, we are fully behind each school and hope that from these tournaments the further natural players emerge," Gravesande said.
Sam, was brief in his remarks, expressed his gratitude to the sponsors who paved a way for the students who will benefit in the long run. He noted that the ultimate objective is to produce a well-rounded person who has a balance between academics and sport.
Around the Web