Referees named to officiate in the inaugural GT&T Fastball tournament attended a Workshop yesterday at GT&T Canteen aimed at sensitizing them with new innovative rules of the competition ahead of the official launch next weekend in Linden.
The Workshop attracted referees from Linden, Georgetown, East Coast Demerara and Berbice.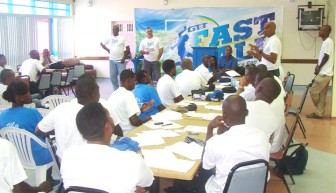 GT&T Marketing Officer, Raymond Hunte, said the Workshop was geared to ensure that all officials were familiar with new rules that would be implemented for the tournament.
Guyana Football Referees Council (GFRC) Secretary Troy Peters said that it was an excellent initiative by GT&T and he offered the council's full support for the event.
The officials discussed the new six-second penalty, throw in/kick in, timeouts, kicks from the penalty marks, fouls and misconduct and the roles of the fourth official and timekeepers.
Football Referees Administrator Lawrence "Sparrow" Griffith and Referees Coordinator Roy McArthur, conducted the session with assistance from Kirk Jardine who represented the sponsors.
The officials later attended the Awareness games at the Diamond Community Centre on the East Bank Of Demerara where four games were played featuring teams from the EBD.
The Fastball competition will get cracking next weekend at the Mackenzie Sports Club ground in Linden and will end with the grand final at the National Stadium during the first week in August.
Around the Web