Guyana's Rolyce Boston jumped his way to a bronze medal last Friday evening at the Junior Pan American Championships in Miami, Florida.
The championships,  which concluded yesterday, saw local athlte Stephan James failing to make the 200 metres final on Saturday.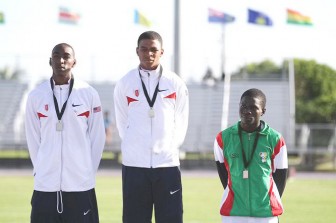 Boston, who migrated at a young age, now resides in the United States of America and attends Sheepshead Bay High School in New York City where he trains under Coach John Padula.
The eighteen year old Boston, had jumped his way into history at the New York State Championships with the third best jump in the history of the Public Schools Athletic League (PSAL).
His jump of 7.5m was also the best jump by a PSAL athlete in 43 years
At the Junior Pan Amarican Games  Boston leapt 7.34 metres for bronze behind Americans, Devin Field 7.58m and Terrance Williams 7.54m who were first and second respectively.
Meanwhile, James became the only Guyanese to make a sprint final at the Pan American Junior Championships when he  clocked 48.37s for the sixth position in the final after a 47.27s heat time.
He, however, failed to make the 200 metres final when he clocked 21.82s to place fifth in heat two out of the three 200 metres heats.
Speaking with his coach, Sham Johnny of the Rising Star Athletic Club Stabroek Sport learnt what could have probably caused a dip in James's final performance.
"Well while it is credible with what he has done, I just think that he should have done better, before he left I said he was going to run 46 or 47 and he did in the heats, I just think that there was a lack of motivation for him there in the finals.
"I'm sure he had more than five hours to recover which is a full recovery time and I don't know what he did while warming up but the recovery time was adequate enough for him to equal his heat time or do better, I think it was a technical flaw on the part of the officials there and if me or Julian (James's next coach) was there with him his mental preparation for the final would have been lighter," Johnny concluded.
James is expected to return to Guyana tonight while Boston will leave for New York.
Around the Web