DAEGU, South Korea, (Reuters) – Pole vault queen  Yelena Isinbayeva and 800m world record holder David Rudisha  take centre stage at the world athletics championships today — and both could be forgiven for hoping they do not  appear on the cover of the official programme for the Daegu  event.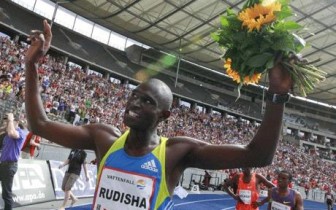 On all three days of competition so far, the athletes who  featured prominently as cover stars suffered ignominious exits  that day.
On day one Australian Olympic and defending world pole vault  champion Steve Hooker featured, and swiftly exited without even  completing one successful jump.
Day two's cover showcased Usain Bolt and the world's fastest  man was promptly disqualified in the 100 metres final for a  false start.
Yesterday was the turn of Dayron Robles who at least got to the  end of his race — before having gold taken away for jostling  China's Liu Xiang in the 110 metres hurdles final in what is  swiftly being dubbed "the curse of the cover".
Russia's Isinbayeva should at least get in the air, and is  favourite to win back the title she claimed in 2005 and 2007.
Although America's Jenn Suhr, in great form, is expected to  run her close.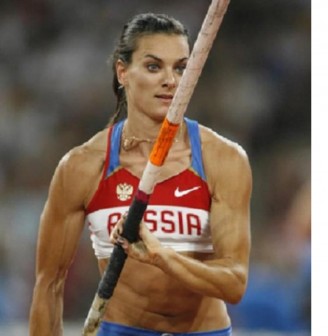 World record holder Rudisha is unbeaten in the 800 metres  since failing to reach the final two years ago in Berlin in a  shock result.
Today's action in Daegu also features the men's 400 metres  where LaShawn Merritt, back from a 21-month doping ban, posted  the fastest time of the year in heats.
Gold medals will also be handed out in men's discus and 3,000  women's steeplechase and the heptathlon where Britain's Jessica  Ennis was leading after the first of two days.
Comments
EUGENE, Oregon,  (Reuters) – Keni Harrison equalled the second-fastest 100 metres hurdles ever run and fellow American Justin Gatlin breezed to a sparkling but wind-assisted 100 metres victory at the Prefontaine Classic Diamond League meeting yesterday.
LONDON, UK,  CMC – Usain Bolt led his Racers Track Club (RTC) of Jamaica to victory in the 4×100 metres relay to culminate the Sainbury's Anniversary Games  yesterday.

'A' Division on 96 points maintained its lead at the end of the second day of the Guyana Police Force (GPF) annual Inter-Division track and field championship at the Police Sports Club ground, Eve Leary yesterday.

ST.GEORGE'S, Grenada,  CMC- Reigning World and Olympic 400 metres champion Kirani James is Grenada's sports personality of 2012, copping his fourth consecutive title at the weekend.

By Iva Wharton Coming off a sub par year in 2011 by her usual lofty standards, top female long distance athlete Alika Morgan is contemplating participating in more international competitions this year.