A number of interesting factors will arise from an examination of the shortlists of contending books released by the juries of the Guyana Prize.  The first list reveals the finalists in contention for The Guyana Prize for Literature 2010, while the second is the result of an important new development in the award of literary prizes. This year will witness the inaugural presentation of The Guyana Prize for Literature Caribbean Award 2010.  While the first continues the Prize dedicated to works by Guyanese authors, the second offers for the first time, a separate prize in different disciplines for writers across the entire Caribbean.

The winners will be revealed when both awards are presented at the official ceremony on September 1. The shortlist exhibits a strong field with one of the notable features being the fact that all the finalists have appeared on the shortlists of major literary prizes before this, and all but one of them have been winners in these prizes.
There is also some level of development and establishment in the fact that in Poetry, Brian Chan, Stanley Greaves, Maggie Harris and Berkley Semple were past winners in the First Book category and now appear in contention for the major Prize.  In Fiction Jan Lowe Shinebourne is a past First Book winner who is now one of the leading Guyanese authors, while both David Dabydeen and Karen King Aribisala have been major winners.  It is King Aribisala's first appearance in the Guyana Prize but she is a winner in the Africa Region of the Commonwealth Writers Prize.  While Harold Bascom has previously won the Prize for Drama, he is now listed alongside another previous winner and a newcomer.  Grace Nichols is a major Guyanese poet and novelist who has won prizes before, but now appears for the first time on a Drama shortlist.
The 2010 shortlist was released by the Guyana Prize Jury which has assembled a panel of judges chaired by Prof Victor Ramraj who sat with Elfrieda Bissember, Juanita Cox, Brendan de Caires and Dr Louis Regis.
Ramraj is Professor of English at the University of Calgary in Canada and has been involved over the years as author, editor or board member of many distinguished literary publications and associations, chief among them being the prestigious international literary journal Ariel, which he served as Editor.  He has researched extensively in literature and has several publications including critical works on VS Naipaul and Derek Walcott.  Prof Ramraj has held visiting professorships, has been a keynote speaker at conferences and given public lectures.
Elfrieda Bissember has served previously as a member of the Guyana Prize Jury and is the Curator and a director of the Guyana National Gallery of Art at Castellani House.  She is a painter, art critic and art historian who has researched Guyanese art and written several catalogues for exhibitions, including many critical studies of Guyanese artists.  She is a member of the International Association of Art Critics and the regional body of curators and museums.  Ms Bissember is responsible for many literary, cultural and artistic events, including major literary readings and presentations of Guyanese writers such as Martin Carter and Edgar Mittelholzer.
Juanita Cox, who is British, is a foremost authority on the life and work of Mittelholzer and is currently the leading researcher in this area.  She is engaged in doctoral studies on Mittelholzer at the University of Birmingham and has lectured at the London Metropolitan University.  She has lived in Nigeria, has vast research experience and has written for several literary publications and given public lectures.  She was a keynote speaker at the Annual West Indian Literature Conference in 2009 where she presented on 'Mittelholzer, A Quiet Revolutionary.' Ms Cox has written critical introductions to a series of Mittelholzer novels recently re-published.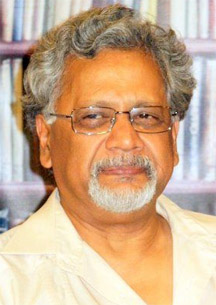 Brendan de Caires is a literary critic, editor and reviewer currently living in Canada.  He has worked in Trinidad and Tobago where he reviewed books for Caribbean Beat and was associated with MEP publishers.  He has written reviews for the prestigious Caribbean Review of Books and published critical articles, including works on Derek Walcott, in literary journals and magazines.  He has served as a Judge for the Commonwealth Literary Prize.
Louis Regis is a member of the Department of Liberal Arts in the Faculty of Humanities and Education at UWI, St Augustine.  He is a Trinidadian with an interest in Cultural Studies and has researched extensively on Trinidad Carnival and the calypso.  In these areas he has several publications including the book Black Stalin – Kaisonian and several articles on the political calypso on which he has done in-depth studies.  Dr Regis lectures in literature and is a member of the Examining Committee for CXC.
The following is what the Jury has to say about the shortlisted Guyana Prize books.
Guyana Prize 2010 Shortlist
Best Book of Poetry
Brian Chan's The Gift of Screws has a speaker who is ruminating in middle-age on a range of epiphanies of a lifetime. Whether observing a caged lioness or paying tribute to his spouse who has been "elbower and hand-holder; compass and / carriage," he considers the various ways we recall and reconfigure the past in poetic fictions, and how these remembrances are driven by the hope that "the sheer everydayness of our miracles / outweighs the nonesuch of the ordinary."
Stanley Greaves's The Poems Man is a homage to Martin Carter – the "poems man" of the title.  Attentive to the forms and thoughts of poetry, Greaves shifts surreally between the imaginary landscapes of his own paintings and philosophical questions that engaged Carter's poetry.  Fascinated by the interplay of the visual imagination and the "intoxication of speech," he probes the act of creation with a terseness and rhythmic economy close to the poetic voice of the mature Carter.
Maggie Harris's After a Visit to a Botanical Garden has a speaker whose encompassing frame of references is Guyana and UK, Michael Jackson and Lata Mangeskar, botanical gardens and train stations, and who is witty and lyrical, playful and tender.  One poem drolly examines technological progress; another captures the various voices of vendors at a West Indian tourist market as they entice shoppers; in yet another she has a speaker contemplating her maternal emotions at her daughter's wedding.
Mark McWatt's The Journey to Le Repentir retraces the growth of a curious child in the remote northwest of Guyana, paralleling the speaker's transition to adulthood with the journey of an Elizabethan sea-captain searching for El Dorado centuries earlier.  The latter parts of the collection address adolescent passions and the challenges of mid-life and old age, juxtaposing personal and political creation/destruction and the remorse of a Frenchman whose accidental fratricide drove him to rename his estates La Penitence and Le Repentir.
Sasenarine Persaud's In A Boston Night takes us on a disturbing tour of Boston and the east coast of the US and Canada, mentioning incidents past  ("Boston Tea Party") and present ("Audience: Walcott in Boston").  A dominant aspect of these poems that feature marginalized immigrants as their speakers is their sense that they are outsiders: one sees himself as a "stranger," who "could never meet again" with those he has met en passant. Another, a poet, who is told that his "language is weird," asks "how to write a bastard self."
Berkley W. Semple's The Central Station plays on the word "station" (class, status, destination, death, home-base) and the poems (all hundred-plus that have one-word titles) look at all these meanings in mostly Guyanese contexts from various perspectives.  One which views the death of many generations of fishermen as missing links in the family-tree ends with "the lack fills a whole life with trying to fill."  Of the historical killings in "Lusignan," the speaker is paralyzed by "horrors heavier than this poem can hold."
Best Book of Fiction
David Dabydeen's Molly and the Muslim Stick is a novel that shifts between realism and absurdism.  The eponymous English heroine is raised in grim Lancashire of the 1930s. Subjected to horrific sexual abuse by her father and his friends and psychologically damaged and teetering on madness, she finds solace in a talking Muslim walking-stick and in Om, an illegal Amerindian from British Guiana, whom she follows back to the Demerara jungle, where she learns to reject her victimhood and look to the future with hope.
Karen King-Aribisala's The Hangman's Game is a novel that has an Afro-Guyanese female protagonist who attempts to write a historical novel about the 1823 Demerara Slave Revolt.  Struggling with writer's block, she travels to Nigeria, in the 1990s, in search of an explanation for the slave trade but does not return to her writing until a family friend is murdered by El Presidente's military regime. The historical and the contemporary blur as Nigerian tyrants around her begin to mirror the brutal behaviour of the nineteenth-century slave-owners.
Janice Lowe Shinebourne's Chinese Women is a novel about a financially successful Canadian-Guyanese immigrant's life-long obsession with a Guyanese-Chinese woman.   The protagonist remembers his life as a young Muslim suffering the crushing segregation of estate life in colonial Guyana, where he becomes obsessed with the young Chinese girl. His thwarted devotion to her leads him years after to seek her out in contemporary post-9/11 London at a time when he seemingly is engaged in Middle Eastern subversive activities.
Best Drama
Harold Bascom's Blank Document is a radio drama that explores interwoven themes of lesbianism, Guyanese migration, family relationship, and creative writing. The protagonist, a past winner of the Guyana Prize, has a badly kept personal secret, which, when exposed, forces her to migrate to the US, where, ostracized and depressed, her life becomes "a blank document," a state from which she eventually recovers after a cathartic experience.
Janice Imhoff 's The Changing Hand portrays the lives of Georgetown's street people, underlining  their resilience to cope with and survive  whatever fate throws at them.  The protagonist is an eccentric old woman, who belongs to the tradition of West Indian barrack-yard stories.  Imhoff brings home to the reader/audience in scene after scene the realities of poverty in contemporary Guyana, contrasting them with scenes of middle-class romanticizing observers of poverty (in a newspaper office).
Grace Nichols's Blood and Wedding: A Guyana/Caribbean Version of Lorca's Tragedy is a retelling of Garcia Lorca's rural Spanish drama of passion and love, death and betrayal.  Retaining much of Lorca's narrative development, characterization, and motifs, Nichols adapts the play to a Guyanese-Caribbean world with modifications such as a Chorus of cane-cutters (speaking in Guyanese demotic) and the figure of Death in the form of the Kanaima of Amerindian folklore.
First Book of Fiction
No nominations.  The judges note that though there are several promising first books of fiction, they regret to announce that none measured up to the criteria of excellence.
First Book of Poetry
No nominations.
The Caribbean Prize
The shortlist for the first Guyana Prize for Literature Caribbean Award was decided by a distinguished panel of judges internationally recognised as writers and literary critics.  This Jury was chaired by Stewart Brown and comprised Funso Aiyejina and Rawle Gibbons.
They came up with finalists who make up a very strong field, particularly in poetry, and it is significant that the juries in both Prizes have commented on the exceptional strength of the poetry in both the Guyana and Caribbean competitions.  The shortlisted authors are from Jamaica, which claims the most places, followed by Trinidad and Tobago, Guyana and Haiti.
There are two previous winners of the Guyana Prize on the shortlist for the inaugural Caribbean Award, John Agard and Mark McWatt, and McWatt happens to appear on the shortlist for both 2010 Prizes. Of interest is the length of the list in poetry, and this signifies that in the opinion of the judges, the field in poetry is very strong, prompting them to select six contending books, all of them with a chance at the Prize.
The most remarkable observation about the fiction list is that it is made up entirely of women novelists.  It reflects the notable rise of women in Caribbean literature that has been a major factor for decades.
This particular strength is now being reflected in the shortlist for this new Prize.  Also of significance is the inclusion of a Haitian novelist, representing the non-English speaking Caribbean and a new member of Caricom in the news most recently for problems and disasters.
The Shortlists
Best Book of Fiction
In alphabetical order
Myriam J. A. Chancy,  The Loneliness of Angels
Karen Lord, Redemption in Indigo
Diana McCaulay, Dog-heart
Patricia Powell, The Fullness of Everything
Amanda Smyth, Black Rock
Best Book of Poetry
In alphabetical order
John Agard,  Clever Backbone
Christian Campbell, Running the Dusk
Vahni Capildeo, Undraining Sea
Ishion Hutchinson, Far District
Mark McWatt,  The Journey to Le Repentir
Jennifer Rahim, Approaching Sabbaths
The Jury
Dr Stewart Brown is Reader in Caribbean and West African Literature in the Centre of West African Studies at the University of Birmingham, UK.  He is a poet, artist, critic, editor and anthologist who has researched and published extensively in areas of West Indian literature.  Among his publications are books of poetry including Lugard's Bridge; important Caribbean anthologies including Voiceprint; a collection of his essays including Tourist, Traveler, Troublemaker; and other critical works including The Art of Derek Walcott, The art of Kamau Brathwaite and The Art of Martin Carter.  He has been a judge in the Guyana Prize for Literature, a visiting lecturer at UWI, Cave Hill and has exhibited his work in the fine arts.
Prof Funso Aiyejina is a Professor of Literature and Creative Writing.  He is a Nigerian fiction writer who won the Commonwealth Writers Prize for the Africa Region for his collection of short stories, and has conducted workshops in Creative Writing, including the Cropper Foundation Workshop in Trinidad.  He is also one of the directors of the OCM Bocas Caribbean Book Festival and Awards.
He is the Dean of the Faculty of Humanities and Education at the UWI, St Augustine, and has researched and published extensively in his field.
Rawle Gibbons is a lecturer in the Centre for Creative and Festival Arts at the UWI, St Augustine, Trinidad.  He has researched extensively in theatre, drama, and the arts of carnival and lectures in those areas.  Additionally, he is the President of CaribNet, a regional network of Caribbean artists and dramatists.  He is one of the leading dramatists in Trinidad and the Caribbean and has written and directed several plays including Ogun Iaan (as in Pan), I La Wa, and The Calypso Trilogy, which has also been published in book form.  He is the Chief Examiner for the CXC Theatre Arts, and is the Series Editor, along with Al Creighton, of the new series of West Indian plays being published by the UWI Open Campus.
Around the Web