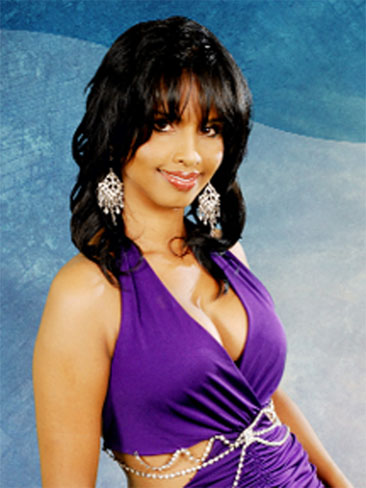 Come Friday evening, a bevy of ten beauties will take to the stage at the National Cultural Centre to vie for the Miss India Worldwide Guyana 2011 crown and the chance to represent Guyana at the Miss India Worldwide Pageant to be staged in Dubai in May.
The contest is being staged by APSARA and according to a press release, Miss India Worldwide is the longest running international Indian pageant with affiliates in over 20 countries.
Friday evening's contest will feature four categories: talent, eastern wear, evening gown and question and answer.
In addition, there will be performances by special guests — Nikkitasha Marwaha, a finalist from Zee TV's 'Dance India Dance', Miss India Worldwide 2009 and the APSARA dancers.
The show, which is sponsored by GT&T, Digicom, Hotel Tower, Dyna's Embroidery, E Prestige and Banks DIH starts at 8 pm.

The ten contestants:
Christine Camacho: A 20-year-old resident of Ogle, East Coast Demerara, Christine is 1.70m (5'6") tall. This young entrepreneur—she owns Professional Clerical Services, a clerical consultancy firm—fully believes in independence and taking control of her own destiny. She is currently completing her Bachelor's Degree in Business & Management at the University of Guyana and plans to pursue a Masters in Business Administration immediately after. For her, nothing is ever too big or too small a task to handle".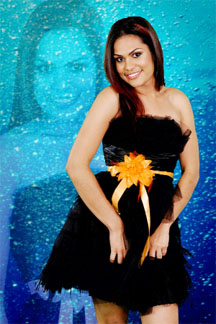 Christine has been in the spotlight for some time and represented Guyana among 45 girls from around the world in Prague at the Miss Princess of the World 2010 pageant. She has participated in major fashion shows in Guyana including Guyana Fashion Weekend 2010.
She is great at balancing her personal life with her business activities; prioritizing competing tasks and she thinks that if she wins the Miss India Pageant Guyana 2011 title, she will honourably and passionately take her beautiful melting pot Guyana once more to the heart of the international level as 'One People, One Nation, One Destiny and the land of many waters'. Christine is sponsored by Toolsie Persaud Inc. Her special interest involves working with children, as they are the future and she has a keen sense of and unquestionable love for the world of fashion.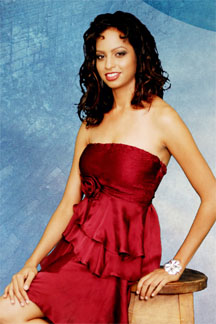 Ornella Ramcharan: This fiery Aries, who says she would be proud to represent Guyana at Miss India Worldwide, is 20 years old and stands at 1.72m (5'7") tall. Ornella, who was a contestant in the Miss Guyana Universe 2009 pageant and lives on the East Bank Demerara is a much sought after model. She has walked the fashion runway for US-based Guyanese designer Roger Gary and Derrick Moore and has done promotions for several companies such as DDL for Pepsi Max and Topco and GT&T.
An avid charity worker for her church, Ornella's ambition is to continue her studies in science field; she would love to study to be a laboratory technician at the University of Guyana.
She describes herself as a fun loving "down-to-earth" young lady who gives as good as she gets. She loves excitement and has a life long dream of travelling the world. She hopes to win this pageant and to explore India to learn about how our Indian culture is the same but different at the same time. Ornella is sponsored by Comfort Sleep.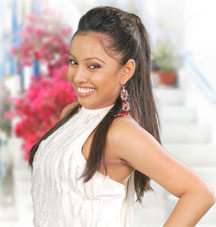 Natasha Kareem: Host of SaReGaMa, an Indian music oldies show and a popular TV talk show, Natasha is also busy studying Business Management and Psychology.
This 1.54m (5'), 21-year-old resident of the West Coast Demerara would like to be a positive role model to women everywhere, particularly in the area of women's education and child welfare. She hopes to be remembered as someone who fought to educate women and children to believe in themselves and build their self-esteem so they can stop being victims of abuse.
Natasha assists children in her area after school with their revision and homework, helping to create an environment that is both fun and educating. Working with children and counselling both women and children has been a pleasure of hers for the past three years. She is a member of an organisation that provides basic financial assistance to the elderly and less fortunate and this is something she started among her peers since high school.
Natasha says she enjoys being in the public eye because it is a tool she uses to promote her culture, experiences, talents and intelligence so that victims of abuse out there can use it as their inspiration. Natasha is sponsored by Gold Target Export.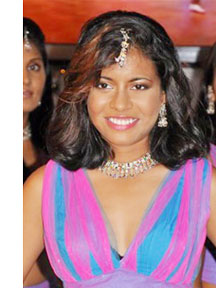 Stephanie Jane Singh: This multi-talented, multi-faceted 17-year-old, is still in high school. But Stephanie has a passion for tourism and hopes to follow her passion and study tourism and hospitality at the University of Guyana. She then expects she will work in this sector to highlight Guyana's natural beauty to the world.
Stephanie stands at 1.56m (5'1") and lives on the West Bank Demerara.
A fluent Spanish speaker and skilful Latin dancer, she loves travelling and has visited Venezuela, Brazil and many parts of Europe.
She loves physical activity and the great outdoors; she enjoys swimming.
Music has always been a part of her life and Stephanie loves Soul, R&B, Reggaeton, Salsa and Meringue.
She is a very ambitious, hardworking and sincere. She loves taking up new challenges and is an overall joyful person. She has been the carnival queen at her school. Stephanie is sponsored by Palm Court.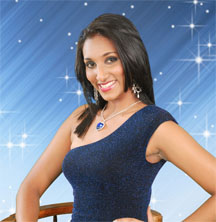 Roshini Khushi Boodhoo: This 24-year-old West Coast Demerara resident loves to cook, is regarded as quite a chef by many of her peers and has always dreamed of opening a restaurant. Nevertheless, she is currently pursuing a degree in Biology at the University of Guyana.
Roshini, who is 1.72m (5'7"), has been modelling for Guyana Fashion Weekend and is a very active member of the Guyana Hindu Dharmic Sabha.
She feels blessed in her life and also gives back to society by helping out at her local orphanage. Quite a "tomboy", Roshini loves sports, these include volleyball, go-carting, kayaking, cricket, and basketball.
She said she feels privileged to share the same birthday–2 October—with Mohandas Karamchand Gandhi. Two of her favourite quotes, from him are "You may never know what results come of your action, but if you do nothing there will be no results" so you should "Be the change you wish to see in the world".
Roshini is proud to be in this pageant and is an example of a cultured young woman who thinks she has made an exceptional decision in endorsing in this venture. She encourages every young woman out there to be indomitable and stand up for themselves. "Be independent, grab the moment and you will be undefeatable, for a woman is only truly satisfied with herself [when] she takes that extra leap," she says. Roshini is sponsored by S. Boodhoo.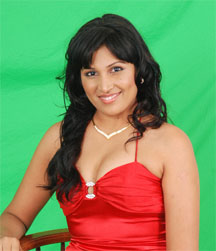 Mohini Roopchand: An Essequibo girl, 22-year-old Mohini describes herself as a simple, easy-going individual with a pleasant personality who is very industrious and sincere and who takes pride in whatever she does. She is motivated, friendly and she loves children and working with them, as she believes that "the seeds of tomorrow need nurturing from today".
Mohini is currently pursuing studies at Global Technology and will be writing exams in May-June. She has a strong interest in business, for this reason she intends to read for a degree in Business Administration. Her hobbies include dancing, playing sports, reading and meeting new people.
Mohini is dedicated to HIV and AIDS education because she believes that awareness is the first step in combatting this global pandemic.  She has a dream and the sky is the limit.
Mohini who stands at 1.76m (5'9") is sponsored by Rockies Brazilian Bar.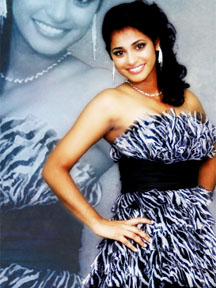 Trisha Persaud: Trisha des-cribes herself as very fun loving outgoing and she has a great personality which helps her to get along with almost everyone. She loves meeting new people and making friends.
She works hard at everything she does. Her motto is "work hard and never give up for it is better to try and fail than to fail to try". She also believes strongly in living "my life everyday by the phrase 'take good care of your reputation for it's your most valuable asset.'"
This 19-year-old resident of Georgetown, who is 1.54m (5') tall, is currently pursuing studies at Global Technology and will be writing exams in May-June.
She firmly believes that Guyana has the best agricultural produce and goes about educating her fellow citizens on the benefits of buying local.
Her hobbies include dancing, cooking, playing sports, reading books and meeting new people.
Trisha has a soft spot for homeless people. "I feel sad and pain in my heart when I see persons on the streets, with no food, clothes and shelter," she says. In the future she hopes to establish an organisation for the needy and to date has begun realising her dream by setting up a website to assist the needy.
Trisha is sponsored by A Ramotar Exports.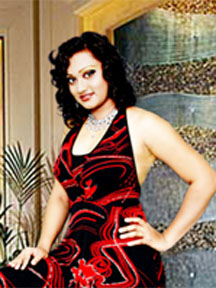 Judith Claire Sullivan: At 20 years old, this Burma, Mahaicony, East Coast Demerara resident is passionate about becoming a professional singer and songwriter. At the moment though, she's studying Portuguese at the Brazilian Embassy and is enrolled at Royal Academy studying English.
Judith is 1.65m (5'4") tall and enjoys the rigorous demands of fashion modeling; she modelled for Guyana Fashion Weekend 2010.
She loves travelling, swimming and meeting people of different cultures.
Judith has a soft spot for less fortunate children and supports the Ptolemy Reid Rehabilitation Centre.
An active volunteer for many fine causes and a great fan of debating, Judith hopes to use the Miss India Worldwide to highlight the negative impact of child abuse in Guyana. Adding to this point, she believes that as an individual it's important to better enhance and educate the minds of others especially our youths about practicing safe sex and being faithful so as to prevent HIV and AIDS. Judith is sponsored by CNS Ins.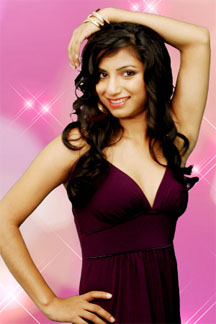 Divya Sieudarsan: This 21-year-old resident of Corentyne, Berbice, is a student at the University of Guyana, where she is pursuing a career in accountancy.
Divya, who stands at 1.62m (5'3"), feels Guyana needs to take the international stage by storm and remind the world that we can step up to the plate also. She is confident that she is the best person to do it.
Divya does not fear the spotlight; she was a contestant in the Miss Guyana Universe Pageant 2009 and modelled subsequently at Guyana Fashion Weekend 2009. Divya has also modelled for APSARA'S collection and danced with members of the APSARA dance troupe for the opening of the Skeldon Sugar factory in Berbice.
She describes herself as a combination of intelligence, beauty and an amazing personality. She loves a challenge; loves to try new things and meet new faces and dreams of travelling the world one day to be exposed to various cultures, traditions, cuisines, lifestyles and much more.
Fashion and entertainment are among Divya's interests and she is very passionate about protecting Mother Earth and tries her very best to encourage others to do the same. She believes that trees are truly the lungs of the earth and must be protected as they are integral to our survival.
Divya is sponsored by Guyana Power & Light.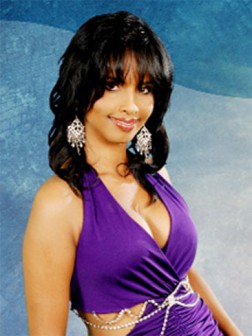 Shivanie Latchman: Though she is already busy as proprietor of her own business – Shivanie's Convenience Store – and marketing representative for MTV Ch14/65 Shivanie is also Host/Producer of "Entertainment Buzz" on MTV Ch14/65.
This 23-year-old East Bank Demerara resident is an inspiration to many young people. She is head of the Ishara Dance Troupe, which is a dynamic and thriving troupe in old and contemporary styles of filmi, classical, folk, bharata-natyam, bhangra and other forms of Indian dancing.
An accomplished dancer, she secured second place in dance at the Talent Search Guyana 2007.
Shivanie is an executive member of the East Bank Building Social Cohesion Youth Group; a member of Nirvana Humanitarian Society and the Guyana Divya Jyoti Association and a number of religious organisations.
She holds a Diploma in Microcomputer Studies.
Shivanie is 1.57m (5'1") and is sponsored by Popeye's.
Around the Web