Roshini Boodhoo and Ayanna Harris seemed the front runners in the Miss Guyana Universe pageant, at least as far as public speaking goes with Judith Sullivan not far behind.  Whether this will be the outcome will be decided tonight at the Princess Hotel when these three and six others vie for the crown.
On Wednesday night, the nine contestants—there were ten at the beginning but one—Keneisha Duke—has opted out—were given the chance to display their confidence, knowledge and speech delivery skills during the question and answer segment, conducted on live television in the studios of the National Communications Network.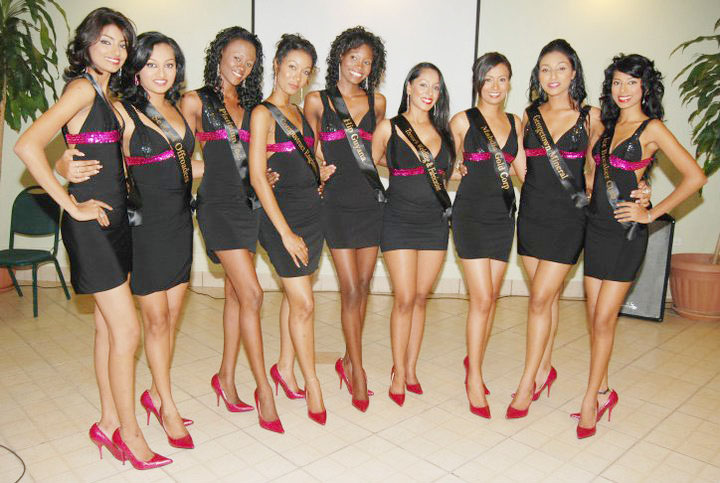 The girls' presentations were judged by a panel of judges – Dr Paloma Mohamed (chief judge), Steve Ninvalle, Radha Motilall, Isaiah Chappelle, Seeta Shah Roth, and two others, and they were competing for 75 points, which were evenly distributed in 25 points in each of the three main categories – knowledge of topic, delivery, and confidence. The interviews were conducted by political activist Dr Faith Harding.
Though she had the look, Madonna Ghanie appeared a bit shaky in her presentation. Harris, who was quick in her thinking, made reference to Harding in relation to the women who are standing out in society, when she was asked about her 'changing roles in women' platform. Sullivan was keen enough to correct the host in her misconception of her platform. Boodhoo's presentation on her breast cancer platform was so flawless, it could have been an advertisement. Harris, Sullivan and Boodhoo were relaxed in their speech.
Anesha Benjamin could have made it with the above-mentioned three, but unfortunately her definition of a role model as one who calls you and advises you, listens to you, comforts and guides you when you're facing a problem did not gel with her role model being Oprah Winfrey. She also needs to work on not gesticulating while speaking.
Seromanie Choomanlall went totally off the bat when questioned on who her target market would be for tourism in Guyana, stating that she would choose her hometown Essequibo, instead of mentioning some foreign country that would benefit from her hometown. Cynthia Singh also answered out of context.
It was obvious that most of the contestants still needed to work on polishing up their English skills, and a few of them just did not pay attention to the question before answering.
Speaking with The Scene on Wednesday, Franchise Holder Odinga Lumumba said that after the launch of the pageant finding sponsors was not difficult. He related that what makes it hard for one of our girls to make in to the Top Ten on the international stage is the fact that the Miss Universe pageant is very competitive. He also alluded to the fact that the smaller countries hardly make it to this position, and most participants have been involved in pageantry at a very early age, whereas in Guyana there isn't much opportunity to do so. "There are women who make it a career to be beautiful … most of our girls just do it because they like it," he stated, "but as the country develops and there are more opportunities in the entertainment and media arena, this will change."
Deryck Moore, who is on the pageant committee, said that this year there is "a very nice cross section of girls [and] they all have something different that they have brought to the table".
Moore said, "we did our marketing well, we went out of Georgetown to ensure that everyone was given a chance… it was very important that we did that [and] I'm glad that we did."
It was obvious too that training had been given. "Its important that the girls keep themselves well groomed," Moore said.
The pageant is slated for tonight at the Princess Hotel, Providence, and among the main highlights of the night will be Chris Martin and Karma. Among the sponsors for the prizes are King's Jewellery World, Street Styles, Glamorous, and Giftland.
Around the Web