Hits and Jams Entertainment (HJ) on Thursday formally launched Jamzone 2011, which will be stretched from August 12 to 21, and promises ten days of packed events, including new additions, such as Jazz and Food, Black Tie and Cricket.
During the briefing, R&B singer Trey Songz of "Say Aah", "Can't Help But Wait" and "Bottoms Up" fame among others and was announced as the headlining act of the international night of the event and will be performing live in Guyana on August 13.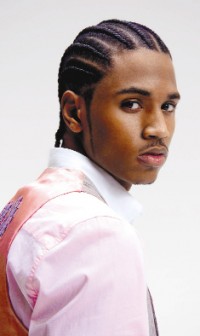 Promoter Kerwin Bollers stated that HJ does not intend on focusing Jamzone on just the younger generation but wants to include the more mature folks as well and as such, is looking to add someone of the same international calibre who will appeal to a more mature audience.
Promoters explained that while they have explored all possibilities to have R&B sensation Chris Brown here in Guyana, he is unavailable.
Meanwhile, promoters say that they foresee the regional night, featuring Jamaican Dancehall artistes Vybz Kartel and Mavado, to probably be the biggest show ever witnessed in Guyana since it will be the first time they would have managed to get two artistes who are at their peak in their music career on one stage. Also, it will be the first time, out of Jamaica, that these two artistes will appear on the same stage, promoters said, and Guyanese will be witnessing this on August 19.
Promoter Rawle Ferguson described this event as a celebration of dancehall music and explained just getting these two entertainers together is a big challenge but noted that this is a good opportunity for young people and persons who follow the music to see that the two are capable of working together. Also, they can talk to these people, he said, adding "entertainment should be entertainment'.
A grave concern for many who are considering attending this specific event is whether or not Kartel will appear. In response to this, Bollers stated, "There's no guarantee to any promoter that an artiste will show up. The most we can do is pay our money and get a contract. For me, I would like to think that once we pay and get a contract, he will show up and he has given us all assurance that he will show up".
The third and final show for Jamzone will be the Chutney/ Bollywood/ Filmi Concert which is slated for August 20. Bollers noted that the recurrence of Chutney artistes is beginning "to get tiresome" and so to bring something with a difference to the table, they are currently "negotiating with India" and will launch this event in a few days.
Last year, the Miss Jamzone pageant extended throughout the Caribbean as Trinidad and Tobago, Suriname, St Lucia, Jamaica, Dominican Republic, Barbados, Antigua and of course, Guyana participated. This year, neighbouring countries Venezuela and Brazil have been added to the line up. The pageant is slated for August 17 but will continue on August 21, the day of the Beach Jam.
With ten days, there are many initiatives in this year's list of events, such as the 'Masters Cup' which is a 20/20 cricket match slated for the opening night and August 14, when the finals will be hosted. Sean Devers, the Public Relations person for this particular event, noted that regional cricketers such as Chris Gayle, Dwayne Bravo and our very own Ramnaresh Sarwan will be participating. "It's gonna be fabulous especially at a time when cricket is kind of low in the Caribbean," he stated.
In making this year's Jamzone calendar a bit more diverse, organizers have decided to add a Jazz festival, which will offer not only jazz but fashion shows and local dishes as well. This event is slated for August 15. Promoters described this event as an introduction one and noted that it is being done on a small basis but shared hopes to have it developed over the years.
The youngsters too can join in the fun as one day is designed specially for their frolic. The 'Kids Zone' will be hosted at YMCA on August 16 and is absolutely free. Children can enjoy face painting, rides and many games and promoters have also mentioned that efforts are being made to have Spongebob Square Pants and Dora the Explorer to make appearances at this event.
Charities too will benefit from Jamzone as a 'Black Tie Event' is being hosted on August 18 where persons can have dinner and later participate in an auction. The delegates from the pageant are expected to bring with them a token from their respective countries to have it auctioned with the proceeds going to charity.
Apart from the many activities, the Jamzone committee will be launching a few other projects including the Jamzone Apparel Store which is expected to open by next week at Ashmins Limited. Here, persons can uplift jerseys, hamper bags, caps and many other items that will be needed for the season.
Also, slated to be launched is the In the Zone Magazine which will give readers an insight of where Jamzone came from, where it is and where it hopes to be in the future. This magazine will be available during the Jamzone period.
What is even better, persons who would have been unable to attend events can log on to live streaming for a small fee and see a little of what is happening at the different events.
Ferguson said he never dreamed that Jamzone would have grown to this magnitude, while Bollers had earlier on said that HJ wants to build Jamzone not only to make it the best festival in Guyana but in the Caribbean.
Ferguson had further stated that this is one of the safest and biggest events in the Caribbean, adding that a lot of systems are being put in place with the police force to make venues entirely secure. To facilitate the thousands expected to attend, the concerts will all be held inside the stadium while vehicles will occupy the parking lot and tarmac.
Ferguson explained that security measures will require patrons to present a chit, which will be issued to them upon parking in the facility, before having access to their vehicles.
Promoters extended gratitude to corporate Guyana for support and to a large extent, the Government of Guyana.
Tourism Minister Manniram Prashad, who was also present, publicly commended and thanked Chief Executive Officer of the Guyana Telephone and Telegraph Company (GT&T) Yog Mahadeo for the company's massive participation in Jamzone.
Prashad said tourism in Guyana increased by 9% in 2010, adding that Jamzone is consistently growing and a lot of people are returning to Guyana to attend. This, he said, was proven by a survey conducted at his ministry. "Tourism has taken off in Guyana and there is no turning back," he said.
He added that he is certainly impressed with this year's Jazz and Food festival as he recalled the small scale on which Rawle and Kerwin started and compared it to how much they have since developed.
Meanwhile, Mahadeo admitted that the amount of sponsorship requested made him take a deep breath but he also realized that this was because of the huge vision HJ had. "Events like these cannot be underestimated or even overvalued because of the contribution they make to our country," he stated.
Mahadeo also said that the large contribution Guyana is making to the rest of the world cannot be quantified as we are leading the way in 10/10 and fastball cricket and other events like Colour Fest.
He stated that GT&T believes in the product, in Jamzone, and what it can do for Guyana especially in the tourism sector.
Anjeta Hinds, Ansa Mcal's Brand Manger for Stag and Mackeson, indicated that the company has many things to roll out in the coming weeks such as ticket giveaways and such. "Jamzone has gotten so much bigger, so much nicer and there is something for everyone, the itinerary proves that. Stag and Mackeson will make sure you have a good time… a real smooth time," she said.
Glamour Designs, the events' exclusive VIP ticket holders, promised to give away "tons of tickets"; one ticket will be won with every purchase of $30,000 and over, while one lucky customer will be awarded with the benefits of becoming the 'Glamorous Fan for Jamzone 2011' which includes being completely outfitted, given a full makeover, transported to and from any event and gaining backstage access, Glamour representative Trevor Rose explained.
Kian Jabour of Shaker's Cocktail Bar, also spoke of what his company has to contribute to this year's festivals. "We are trying to take it to a next level… We are looking to really enhance the VIP section and as you know, we've added the luxury VIP as well where we are offering food, cocktails, catering and everything else," he said.
The luxury VIP was explained to be an elevated area and patrons of this section will be entitled to a waiter/waitress and comfortable seating while their vehicles will be in a reserved parking area.
Regular tickets for both the regional and international concerts are $3,000, while the tickets for VIP and Luxury VIP for the regional night are $15,000 and $20,000 respectively. VIP tickets for the international night cost $20,000 and $30,000 respectively. The cricket matches cost $1,000, while tickets for the Black Tie event cost $5,000.
Around the Web