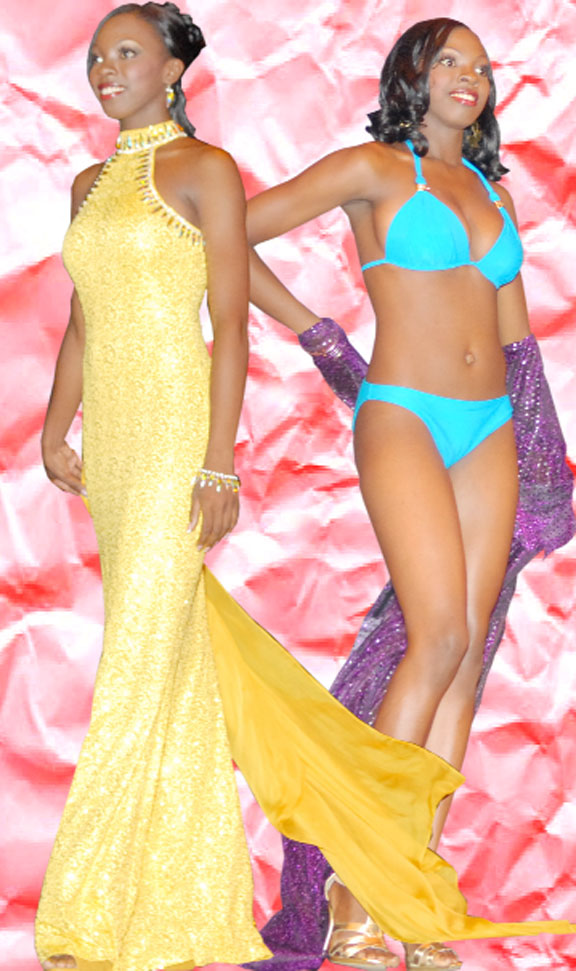 Recently crowned Miss Guyana Princess of the World Soyini Fraser admitted that she was once unenthusiastic when it came to pageantry, but said that this changed after a friend of hers, a previous beauty queen herself, challenged her to enter into a pageant.
The dazzling queen sat down with The Scene and said that she now realizes that there is much more to pageantry than what meets the eye. "It is not about exploiting young women and just the physical aspect that people look at," Fraser said; "They build you morally. I think pageants in Guyana are definitely heading in a positive direction… and I think that Guyanese women have a lot to offer the world."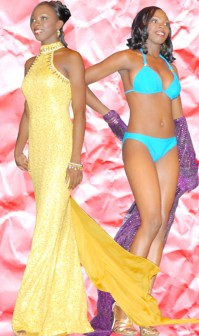 The Guyanese beauty, born May 8, 1990 to Lynden and Debra Fraser, explained that she now view pageants in Guyana as a stepping stone, and that for her, they were an amazing way of discovering who Soyini Fraser really was.
"I discovered that I am brave; I am not as shy as I thought I was before and I was able to elevate my thinking because each time I enter a pageant, I pull the positive aspects of each delegate and incorporate [them] into my own life. The delegates in this pageant taught me a lot about love and respect and also ambition, because each girl is driven by her own purpose in the direction that she thinks is best for her, and under the guidance of a strong committee, like I had this year at the Miss Guyana World, possibilities are endless," the Guyana Princess of the World said.
Fraser described herself as a very quiet and reserved person since she prefers to be backstage at any event. "To challenge myself to come in front and see what the limelight is like was a totally different experience. I didn't know I can be that bold even though I'm not shy," she said.
The new queen copped the first runner-up in the Miss Guyana World Pageant which earned her the Guyana Princess of the World title and a chance to represent her country.
She currently attends Life Christian University located in Queenstown where she is studying Theology, and is in her final year before completing a Bachelor's Degree. "I chose this field because I'm a Christian by religion and I just believe that it's a good way to understand fully what my religion entails and to personalize it to see how I can internalize what I'm being taught in church and at school to make me a better person and a better Christian overall," the young woman said.
She explained that though some religious sectors of Guyana don't support pageants, there are those in the Christian community that do lend their support. Nevertheless, Soyini continued, all the criticisms are weighed and what is needed is kept, what's not is discarded.
"My community and my church have been very helpful, morally and in other areas, even though they might not personally believe it's a choice they would make," she said.
'Mommy's girl'
Soyini recalled her earlier years before the glitz and glam, when she was inseparable from her mother and even is to this day. "I'm always with my mother, even at work. My dad died when I was 9 years old, so it's just the three of us (including her brother) and my grandmother who lives with us.
She said that her first school years were experienced at the Mae's Nursery after which she went on to the West Ruimveldt Primary School and later Queen's College.
"I did everything. I loved track and field, I was a member of the steel orchestra, playing the bass pan but I also loved to play every other pan, but my favourite… was the bass. I also loved dancing but because of the themes for the Mashramani competitions, my mom wouldn't allow me to dance for the school, but if we have concerts, I would dance in school. I was more into contemporary dancing. I started dancing at the National School of Dance at age 6-13 but I later transferred to the Classique Dance Company at age 17. I'm on a break from dancing for now because of preparations for the pageant," she explained.
She said that she's had some experience in the pageant arena, but the Miss Guyana World Pageant has so far been the best local experience, as the theme, Beauty with a Purpose, Empowering the Guyanese Woman, was very much to her liking.
"Even though we have the third highest rate in the world, according to the United Nations, of women empowerment, it is still something we need to strike for number one," she noted.
She enthusiastically shared her experience in Vietnam last year when she represented Guyana in the Miss Earth 2010 pageant. "It was mind blowing. I got the feeling of how queens are treated internationally. They are one step short of worshipping you; they treat you amazing, like true royalty," she recalled.
"I got to experience the different cultures of people. I realized how fortunate women in Guyana are because certain countries, especially in Asia, are very communist and very sexist so to see how much we, as a small nation have accomplished, is really great," she stated.
When asked about the Princess of the World Pageant, Soyini explained that it will be one of sophistication, loyalty and  about discipline and poise. "When you think about a princess, you think about a girl who is well-polished, well-spoken and always well-cultured," she noted.
Soyini said that the organizers have a well-rounded programme and lots of girls from around the world responded with at least 50 delegates, which is a huge amount for a pageant, adding that it is the junior Miss World Pageant for Europe. This pageant will be hosted in the Czech Republic on October 1, 2011.
Along with her trainer, chaperone and guide Rhonda Dundar, Soyini is looking forward to the support of friends residing in Germany, who have promised to travel to the Czech Republic to lend their support. "So I have my own Guyanese support there," she said.
In sharing words of wisdom with Guyanese youths, Soyini said the main thing to be focused on is the development of youths morally, spiritually and educationally, especially young women.  "Know who you are, where you want to go in life and how you intend to get there. Having a plan, even if you change your plan a million times, having a plan or an idea of where you see yourself is a plus… You can determine your future. Stay focused, stay humble and very respectful," she emphasized.
(nicham2009@yahoo.com)
Around the Web