Designer Sonia Noel last week led a team of four to the US Virgin Islands Fashion Week where their lines were well received and Sonia was presented with the Caribbean Fashion Ambassador award.
According to a press release, the designers took their distinctive style in the form of 2011/2012 Spring/Summer Collections. Andrew Harris who is now preparing his 2012 collection for BB Fashion Week, showed a slick line of male and female pieces which were reminiscent of 'cruise-casual' outfits.
Neilson Nurse showcased his 'Flavours of the Caribbean' swimwear line. The flow, movement and colours of the line seemed to be inspired by the food, flavours and carnivals of the Diaspora.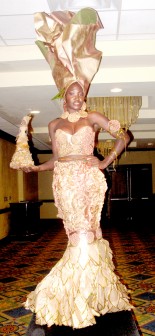 Marcia De Santos proved that she is way ahead of the pack with her colour blocking collection accented with hand paintings using breathable fabrics like linens, silks and cottons. Her line exuded a Caribbean resort-like feel.
Sonia's predominantly black and white line was titled 'Elegance and Purity' and her collection ended with an eco-conscious couture creation, paying tribute to the exotic Victoria Regia water lily and exuding the national pride of the land of many waters. The ensemble, Amazonia Caribe, was made of brown paper. It depicted Guyana's bountiful flora, symbolized by the dozens of cut- out leaves in varying sizes, trimmed in shimmering sequin highlights to also flaunt the country's mineral wealth.
The use of indigenous techniques in accessorizing conjures up an Amerindian ethos, the release said, adding, that the silhouette embraced the European influence and the magnificent regal headwear captured a Nubian presence heralding the UN's International Year of People of African Descent.
CEO of Virgin Islands Fashion Week, Henry Marsham, presented Sonia with the Caribbean Fashion Ambassador Award in recognition for her promotion of fashion. Marsham said Sonia has been supporting Caribbean fashion and his events for as long as he could remember.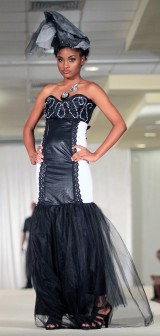 Senator Shawn- Michael Malone of St Thomas US Virgin Islands said it was fitting for Sonia to be recognised as a pioneer in regional integration through fashion.
Sonia expressed thanks for the recognition, stating, "I feel especially honoured.  I must say though that my vision for a Caribbean fashion industry has garnered momentum over the years and I am now part of a wider, shared, regional, networking philosophy that is proving formidable.
"If it is that my sheer commitment to make a living from my creative energy serves to inspire, I am beholden. If it is that my obligation to harness talent and my duty to engage the youth are regarded as philanthropic, I am blessed. And if it is that these fundamental human responsibilities are being given accolade, I am re-energized. And I thank USVI immensely for re-igniting my passion and thank God for the vision."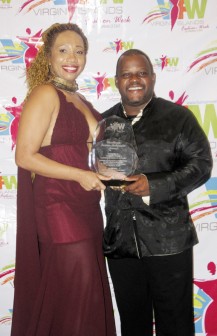 Around the Web