Hi Everyone,
I have a confession to make. I've known about this choka for several months now but I've been reluctant to share it with you. I have no valid reason to give except to say that it was one of those things that I wanted to keep to myself because it was so good. To tell you the truth, I was going to hold on to it a little longer but because I did not have another idea for the column this week, I am forced to write about this Upar Gaar. When you make it, eat it and enjoy it, I know that you will forgive me for being selfish.
I was introduced to Upar Gaar by a very good friend of mine and a man I call brother, fellow food blogger, Felix, of Simply Trini Cooking. Felix himself was introduced to the choka by friends at one of those famous Caribbean get-togethers where there is endless food, drinks non-stop and company that you want to be around until the sun comes up the next morning.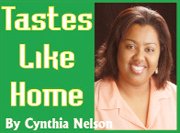 Upar Gaar, also known as Murtani, is a choka made with fire-roasted eggplant, tomatoes, okra, garlic and hot peppers. It is seasoned simply with salt, hot oil and lime juice. This is not a choka for the faint hearted due to the amount of pepper it calls for. The good thing is that you can use less pepper but be very clear, you must put at least some pepper in the choka; the choka demands it.
Don't bother making this choka by roasting the ingredients in the oven; it must be fire-roasted to get that signature smoky flavour and char. If you don't have access to a stove with flames, then use an outdoor grill, a coal pot with a grate over it or a fire-side, anything that will yield flames to lick at the ingredients.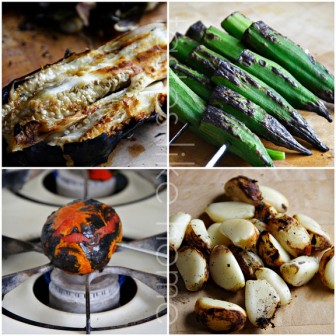 Upar Gaar is silky from the okra, creamy from the eggplant and garlic with a hint of sweetness from the tomatoes and subtly tart from the lime juice. The pepper adds flavour and heat. Oh, for all you heat lovers and heat seekers out there like me, you will really love this choka.
As with most chokas, you want to eat Upar Gaar with loads of thick, tender and warm sada roti. Wash it all down with a large cup of tea or coffee, no juice, drink or water. Eat this choka for any meal you like – breakfast, brunch, lunch or dinner. I love this choka so bad that I make a big batch and put it in small containers in the fridge so that I can have it all week for breakfast.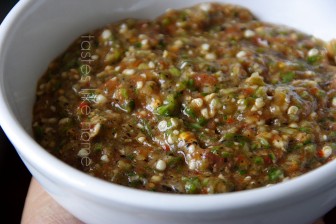 Listen, I have all my Upar Gaar ingredients out on the counter waiting to be roasted. So, I'm going to leave you now with the recipe. Make it and let me know what you think. Don't forget, adjust the pepper to suit your taste. As Felix would say, "ah gone!"
Upar Gaar (Murtani)
(Adapted from Simply Trini Cooking)
Ingredients
8 okras
2 large tomatoes
1 medium-sized eggplant
2 heads garlic
4 hot peppers (scotch bonnet)
1 tablespoon and 1 teaspoon lime juice (fresh)
Salt to taste
3 tablespoons oil
Directions
1.  Skewer the okra and tomatoes and fire-roast on medium heat turning them intermittently until they are softened, charred and heated through.
2.  Make slits in the eggplant with a knife just as you would when making eggplant choka and roast until the eggplant is cooked and the skin is completely charred.
3.  Fire-roast the garlic on low heat until it is soft, the outer skin will be charred.
4.  Skewer the peppers and fire-roast until soft and the skin blistered and charred in some places.
5.  Let all the fire-roasted ingredients rest and cool until you are able to handle them.
6.  Remove the charred skin of the tomatoes and add the pulp and juice to the bowl of a food processor or a large regular bowl.
7.  If you can, take off any excess char from the okras; add the okras to the bowl with the tomatoes.
8.  Remove the charred outer skin of the eggplant and add the flesh to the okras and tomatoes.
9.  Remove the charred skin of the garlic and add to bowl with okras, tomatoes and eggplant.
10.  Carefully remove, if you can, any excess char from the peppers. You can opt at this stage to remove the seeds and membranes to make the choka less hot (the heat lies
in the seeds and membrane). Add peppers to the other ingredients in the bowl.
11.  Pulse the ingredients together – you can make it with a little texture or smooth – based on how you like your choka. Or mash everything together with a masher.
12.  Add lime juice and salt to taste. Pulse/mash to mix; taste for salt and adjust if necessary.
13.  Add oil to a ladle and heat until hot. Pour hot oil into bowl with choka and pulse/mash and stir to fully incorporate.
Serve with sada roti.
Around the Web