Government continues to 'talk up' the dominant role which the extractive industries  are poised to play in the Guyana economy with Finance Minister Dr Ashni Singh using his 2012 budget presentation to outline the positioning of those industries as major contributors to what he described as the country's "economic transformation over the next five years."
Singh said that while the roles of bauxite and gold have already become apparent other extractive industries including oil and manganese are now poised to become major contributors to the country's economy. Additionally, Singh said, other minerals including uranium and rare earths are at the initial exploration stages.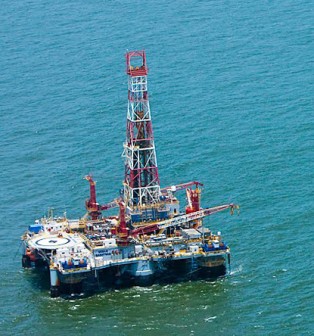 Singh told the National Assembly that Guyana had now secured the anticipated investments to make good on the United States Geological Survey which ranked Guyana as having the second most attractive under-explored basin in the world with a potential of 15.2 billion barrels of oil. Production targets assuming discovery were put at 50 million barrels per year, the equivalent of 140,000 barrels per day. "Over a decade later, the anticipated investments have been realised and the process of drilling commenced," the Finance Minister said.
Apart from current drilling operations currently being undertaken by CGX and Repsol Singh noted that a joint venture which is being led by Esso will see continued exploration activity to determine the merit for further exploration which may include drilling.
Meanwhile, Singh also alluded to the determination that the country's Matthews Ridge manganese reserve contains 2.6 millions tonnes of  crude ore, a development which has attracted new investments in the industry by Reunion Manganese Inc, and the execution of a mineral agreement with the Government of Guyana last year. It is expected that, providing the feasibility study and investment programme are completed as projected, Guyana could witness the development of one of the largest manganese mines in the region by 2013," the Finance Minister said. According to Singh, Repsol has already invested more than US$50 million in its manganese operations and provided around 250 jobs. "The development phase will see 1,000 jobs created and mature operations will create over 500 permanent jobs, and generate total investment in excess of US$300 million," Singh disclosed.
Meanwhile the Finance Minister told the National Assembly that three companies currently engaged in prospecting for radioactive materials with the Canadian company Prometheus Resources already conducting drilling operations in the Krurpung, Middle Mazaruni area.
"On yet another front, rare earth elements which are a vital component in the electronics industry for such items as cell phones and other high technology applications, present a new opportunity for investment," the minister said.
Around the Web