Guyana's apiculture industry may still be light years away from matching the honey production levels of the global giants but President of the newly formed Guyana Apiculture Society (GAS), Karl Persaud believes that there are significant economic gains to be realized from the sector if it can secure a heightened level of private sector interest and a more generous measure of public sector support.
Last Saturday's Honey Show held outside the Muneshwer's Shopping Mall on Water Street was intended to mark the start of what Singh says will be a major initiative by GAS to popularize apiculture as a potential business pursuit. The initiative, Persaud says, will include a public education programme designed to alter the less than convivial relationship that currently exists between bees and the populace at large and to encourage individuals and communities to regard bees as an economic resource to be exploited.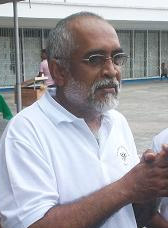 The small groups that 'checked in' with the Honey Show during the day were afforded the opportunity of witnessing displays of the range of commodities produced by the sector including honey, pollen, soaps, medicinal mixtures, food seasonings, candles, wax, royal jelly and wines and speaking with apiculturists who put on displays for the occasion.
In addition to these products, in an interview with Stabroek Business, Persaud said that the displays were intended to heighten public awareness of the value-added nature of the industry.
According to Persaud, GAS has set itself the task of popularizing an industry which has existed for years but has been confined mostly to hobbyists and producers of modest quantities of honey for commercial purposes. Some comparisons are instructive. Unofficial estimates place Guyana's honey production at 10,000 pounds annually. United States honey production in 2011 is estimated at between 150-160 million pounds of honey. China, the global colossus in the honey industry is estimated to have produced around 900 million pounds of honey last year. In 2009, Argentina was the leading honey exporter in the world, earning US$160,000,000 from approximately 128 million pounds of honey exports. The comparative statistics provide both an indication of just how far Guyana is behind the global giants of the apiculture industry as well as the potential economic benefits to be derived from nurturing the local industry.
Current honey production levels are insufficient to meet domestic demand even if no account is taken of the significant requirements of the beverage industry which relies on honey as a sweetener for several of its products. Persaud says that if the local industry is to meet ordinary consumer demand it would be required to produce 300,000 pounds of honey annually.
Developing the local apiculture industry to a point where it can even meet local demand is, for the moment at least, well beyond the capacity of the newly-formed GAS which comprises twenty-seven members of whom twenty are full-time beekeepers. Persaud estimates that there are probably at least sixty beekeepers across the country, most of them "hobby beekeepers" managing "one or two hives." That apart, he points out that the practice of apiculture is widely scattered across Guyana, a circumstance that impacts negatively on efforts to create a cohesive industry. Additionally, Persaud notes that by comparison with other countries in the region the local apiculture industry receives a less than generous measure of public or private sector support. Persaud told Stabroek Business that private sector initiatives in the local apiculture industry are usually not well-supported by the commercial banking system. By contrast, he said that in Trinidad and Tobago, where the local apiculture society boasts more than 300 members, beekeepers benefit from higher levels of support that allow for both investment in production and training for apiculturists. Apiculturists in Suriname also benefit from official support.
Persaud concedes that much of the challenge confronting GAS reposes in allaying fears associated with bee attacks, some of which have been fatal. The public education process, he says, will seek to enhance public knowledge as to how to coexist with bees and how to transform their presence into economic ventures.   "If handled correctly bees can be our best friends," Persaud says.
Public concern over the threat posed by swarms of bees heightened dramatically following the migration from Brazil of Africanized bees.  Persaud believes that despite their fearsome reputation the arrival of the Africanized bees in Guyana has actually benefitted the local industry. While other species boast swarms of 45,000 during the honey season, swarms of  Africanized bees can number between 100,000 and 120,000 during the swarming season. Their numbers make them prolific producers of honey.
Persaud says that the availability of land for the rearing of bees is one of the major challenges facing the industry given the requirement that hives be kept at least 1200ft away from the nearest house. And Persaud advised builders and property owners that scented woods should be treated prior to being used for construction as a deterrent to occupation by bees. He further recommended that ceilings should be sprayed with a home-made mixture comprising neem and thyme.
Comments

What had appeared for several months to have been sharp differences between the Ministry of Natural Resources and representatives of mining syndicates over land allocation that had effectively stalled the commencement of work by the country's first group of gold-mining cooperatives now appears to have come to an end following an encounter between the miners and Minister of Natural Resources Raphael Trotman.

While there are signs that talks on the huge debt owed by the city to Puran Brothers and Cevons Waste Management have been bearing fruit, dissonance continues even as the garbage crisis in the capital may be worsening.

The Guyana Mining School and Training Centre Inc.,in partnership with its stakeholders and supporting training partners, has begun training more than thirty five young adults in disciplines relating to the application of STEM (Science, Technology, Engineering and  Mathematics) to the exploration component of  upstream oil and gas operations.

Gold Prices for the three day period ending Thursday November 16, 2017 Kitco is a Canadian company that buys and sells precious metals such as gold, copper and silver.

With good grades in English Language and Mathematics increasingly being touted as a critical doorway to higher education and meaningful employment paths in Guyana," the Georgetown-based JTW Management Institute has launched the City and Guilds of London and English and Mathematics certificates as what the Institute's Director Jocelyn Williams is describing as a "second chance" for CSEC students and young school leavers.