Guyanese businesswomen are poised to benefit from the newly formed Caribbean Women Entrepreneurs (WEN) established last March and arising out of a forum for Caribbean women entrepreneurs organized by the United States State Department's Global Women's Issues Initiative being led by Secretary of State Hillary Rodham Clinton.
At the March 12-13 meeting held in Washington DC, the twenty-two women entrepreneurs were charged with utilizing WEN to strengthen the voice, visibility and viability of women-led businesses in the region through advocacy, training, networking, sharing best practices and securing funding with which to support the growth and development of members' businesses.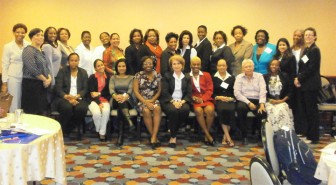 Guyanese businesswomen Lucia Desir and Barbara Dublin who attended the Washington meeting have been charged with creating a local chapter of WEN that seeks to mobilize women involved in various business pursuits to share experiences in pursuit of business and to examine ways in which the organization can further their business interests.
Desir, who spoke with Stabroek Business on her return from Washington said that the outcomes of the forum and the creation of WEN "offer opportunities that have to do with more than just funding. The possibilities extend into areas like training and benefitting from best practices in business," Desir said.
Desir said that during the Washington forum, herself and Dublin benefitted from being made aware of the various tools and resources available to the Caribbean from the United States to support women in business."It is really a matter of us in Guyana and the Caribbean organizing ourselves in such a manner as to qualify for these benefits," Desir said.
The Washington forum featured presentations by officials of various international lending institutions including the World Bank and the Inter-American Development Bank, as well as the US State Department. Desir said that the experience was perhaps most valuable "in terms of what it has done to help us to help other women entrepreneurs to grow their businesses. We certainly benefitted from securing a better understanding of how those organizations work to support their members," Desir said.
A release issued locally last week said that at the conclusion of the forum representatives from participating countries were selected to form the executive of WEN which executive has been  charged with coordinating the activities of the newly established body.
Desir told Stabroek Business that herself and Dublin have already met with officials of the US Embassy and that they had received clear indications that the relevant officials were prepared to work with them to ensure the WEN takes root in Guyana.
Desir told Stabroek Business that plans are in train to convene a forum of local businesswomen "within the next month" to discuss the creation of a structure to support the objectives of the new regional organization.
Around the Web