It is not just the festivities and good cheer that make Christmas 'the most wonderful time of the year'; the season provides a lucrative windfall for persons engaged in a range of business pursuits.
Eugene Fernandes is an upholsterer and this is a busy period for him. At 60, he has been in the business for the past 44 years. Prior to running his own establishment he worked as an apprentice to his father. He makes the point to emphasize his veteran status.
The approaching holidays mean that his West Ruimveldt workshop will be cluttered with living room suites and dining chairs waiting to be re-covered to provide the homes from whence they came with the 'newness' of Christmas. The weeks leading to Christmas may be financially rewarding ones but they can be demanding too. People are serious about their deadlines and it is the ultimate sin not to have all the upholstering jobs done by Christmas eve.
It is, Fernandes says, simply a matter of cost. These days a new living room suite can cost upwards of $300,000. The cost of re-upholstering is nowhere near that. Upholstering a three-piece suite including five cushions requires 22 yards of material and 10 yards of cotton; at worst that cost around $65,000. Workmanship costs $30,000. That is still well below the cost of even a modest new suite.
When Stabroek Business visited Fernandes at his workshop, he was applying polish – a mixture of oil and water – to a newly re-covered leatherette suite. His son was operating from an enclosure not far away, sewing the fabric to re-cover the chairs.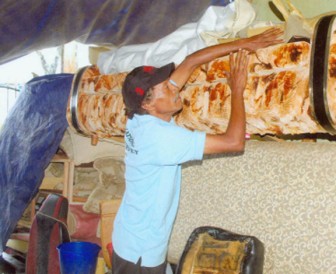 Space and bad weather are Fernandes' enemies. He had what appeared to be around five suites crammed into a modest area covered with zinc. It is a precarious arrangement that leaves his establishment vulnerable to the weather. Once the rain falls he cannot work and his space issue is compounded by customers who are in no hurry to pick up their completed work. As long as chairs are in his custody he is liable for any damage.
The constraints mean that risks must be measured. While this newspaper was there he turned away a potential customer despite her passionate appeals. He said he had already turned away about a dozen customers that day.
The 'trick' in making periodic upholstering work reposes in investing in quality chairs in the first place. Fernandes says that furniture manufactured up to between 10 and 15 years ago would have been made of one of Guyana's traditional hardwoods, perhaps silverballi or crabwood. That would mean that renovation would be limited to biennial upholstering, or even longer. Not today. These days, he says, it is not uncommon for some suites to fall apart in as few as six months. Apart from sub-standard timber he blames some of the deficiencies on poor workmanship. Good joinery, he says, is becoming a dying art.
The overwhelming customer preference is for leatherette coverings. It is, Fernandes says, a matter of both style and durability. Apparently, leatherette can last up to "two or three years" though he concedes that heat tends to shorten its life span.
Once a suite arrives at the workshop the old upholstery is removed and the frame is examined for defects. Where these exist, they are brought to the attention of the customer.
Modest repairs to defective chairs are done free of any additional charge. Once it is determined that the frame is in good condition the chair is re-bagged with sponge.
After that the material is cut, fitted and attached to the chair with staples.
Weather permitting it may take up to one week to complete a single living room suite. During this time of year he must find ways of working quicker. As a general rule he takes in around ten suites every three months. With Christmas now a matter of a few weeks away, Fernandes is long past the point of taking in jobs.
The margins of profit, he says, are small. Over time he has had to cut his work force and now his son is his only employee.
For Eugene Fernandes upholstering has become more of a preoccupation than a livelihood. He admits to lying on his bed and pondering tough jobs and sometimes working out solutions while off the job.
There will be occasions when customers might be late with their payments, but he says this is not as big a headache as those customers who "take ages" to pick up their completed work. Piles of completed work mean additional responsibility for keeping the chairs safe.
The proliferation of minibuses has expanded the upholstering trade significantly. Fernandes gestured at a pile of minibus seats seemingly abandoned in the yard.
A minibus owner who had originally requested that he re-upholster the seats had subsequently changed his mind. It seems that the bus owner had sold the bus for scrap and had suggested that Fernandes do the same with the abandoned seats.
Comments

The unchanging dilemma of an uncompetitive   local manufacturing sector continues to be manifested in the persistence of high electricity costs coupled with a notoriously unreliable power supply system and high costs of imported raw material inputs, among other things, Former President of the Guyana Manufacturing & Services Association (GMSA) Ramsay Ali who is also Chief Executive Officer of Sterling Products Ltd.

With the global coconut industry now offering numerous potentially lucrative opportunities to the manufacturing and agro-processing sectors, the local company, Sterling Products Ltd is signalling its intention to utilize the sector to enhance its own expansion and diversification programmes.

It had always appeared to be the case that the assurance given the citizenry by Town Clerk Royston King in a statement last week that following the withdrawal of services by City Hall's substantive service providers, Cevons Waste Management and Puran Brothers, the City was putting in place contingency measures to manage, in an environmental friendly manner, the city's waste disposal, was little more than just another example of the municipality getting ahead of itself.

(Trinidad Guardian) China Railway Construction Corporation (CRCC) has been awarded a $221.7 million contract by the National infrastructure Development Company (Nidco) to build the controversial Curepe Interchange, the state company's chairman Herbert George has confirmed.

Gold Prices for the three-day period ending Thursday August 17, 2017 Kitco is a Canadian company that buys and sells precious metals such as gold, copper and silver.