Colombian President Juan Manuel Santos' peace negotiations with his country's FARC Marxist guerrillas could have widespread international repercussions: If the talks succeed, they could, among other things, drive the US government to remove Cuba from its list of terrorist nations.
Here's why: Cuba, which is playing a key mediation role in Colombia's peace talks, was kept on the US State Department's annual black list of "sponsors of terrorism" earlier this year — alongside Iran, Sudan and Syria — mainly because it gives safe haven to FARC rebels and members of the Basque separatist group ETA.
But if Colombia signs a peace treaty with the FARC and the Colombian rebels become a legitimate political party, it will be much harder for the US State Department to justify keeping Cuba on the terrorism list, critics of the US trade embargo on Cuba — Democrats and Republicans — say. You cannot be a sponsor of terrorism if the people you are accused of harbouring are no longer terrorists, they argue.

"It would considerably weaken the argument for keeping Cuba on the list, although some hard-liners would resist taking Cuba off the list because they would see it as a first move toward softening US policy toward Cuba," says Michael Shifter, president of the Inter-American Dialogue, a Washington DC think tank.
Although removing Cuba from the terrorism list — like the State Department did with North Korea in 2008 or with Libya in 2006 — would not automatically result in lifting US sanctions on the island, the move would reduce support for the embargo in the US Congress, and pave the way for an improvement in US-Cuban ties, US congressional and academic analysts say.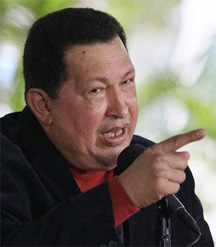 Asked about it, a senior administration said the two issues are "absolutely not connected."
In addition, a possible success of the Colombia-FARC peace talks would have a big impact on Venezuela's image abroad. If Colombia and the FARC rebels sign a peace treaty, it would not only boost Santos' international image as a peace-maker, but would also strengthen Venezuelan President Hugo Chávez's standing in the region.
Venezuela and Norway have helped prepare the ground for the upcoming peace talks, which started with secret talks in Cuba in February.
The Colombia-FARC talks are scheduled to start October 8 — a day after Venezuela's elections — in Oslo, Norway, and continue in Cuba.
Another scenario making the rounds among Venezuela watchers at the US Congress is that, if Chávez loses the Venezuelan elections and there is a civil war in that country, as Chávez himself speculated earlier this week, the Venezuelan president could enlist thousands of demobilized FARC rebels already on the Colombian-Venezuelan border to create an armed resistance movement in Venezuela.

"Colombian terrorist groups could be tempted to join Chávez in an armed resistance movement if the opposition candidate wins," says Carl Meacham, a senior Republican staffer on the US Senate Foreign Affairs Committee. "Make no mistake: Chávez and his followers will not go quietly."
While the Obama administration has welcomed Colombia's latest effort to end its armed conflict without commenting on whether it would have international implications, some key Republicans in the US Congress have strongly criticized it.
House Foreign Affairs Committee chairwoman Ileana Ros-Lehtinen, R-Miami, has called the Colombian peace talks "disturbing," among other things because Cuba's "Castro regime, a US-designated state sponsor of terrorism and long-time supporter of the FARC, has been given a leadership role in ongoing discussions with FARC operatives."
She added, "As we look ahead, we must make it clear that US foreign policy toward the FARC, the Cuban dictatorship and the hemisphere must be based on US interests and not be dependent on any negotiation."
My opinion: It's too soon to know whether Santos' negotiations with the FARC will succeed, or whether they will collapse like so many others in the past. (We should know that soon: Santos has said that the process will not take years, but "months.")
But if they succeed, they are bound to have ripple effects across the hemisphere. Latin America's political map could look very different by this time next year.
© The Miami Herald, 2012. Distributed by Knight Ridder/Tribune Media Services.
Comments

By Mark Leonard LONDON – Over the last few weeks, media around the world have been saturated with stories about how technology is destroying politics.
CARACAS/HOUSTON (Reuters) – Venezuela's unraveling socialist government is increasingly turning to ally Russia for the cash and credit it needs to survive – and offering prized state-owned oil assets in return, sources familiar with the negotiations told Reuters.
By Carl Bildt CHICAGO – We are now in the final days of the industrial age.

During Men's Health Week, the man/woman in the street were asked to speak on their lifestyles and what they do to maintain their health or to encourage their significant others to lead healthy lifestyles.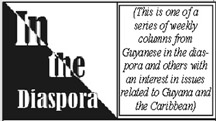 By The Caribbean Voice There are no reliable statistics on the amount of persons engaging in the use of illegal drugs or those described as addicts.