Out of infinite pain the mind of man can fashion beauty. John Clare, the English nature poet, born in 1793 who died in a madhouse in 1864, was the most poverty-stricken of any major poet who ever lived. He could not afford to buy paper so he made it by scraping clean layers of birch bark. He made ink by mixing "bruised nut galls, green copper and stone blue soaked in a pint and a half of rain water." Some of his manuscripts are made of discarded envelopes stitched together and one of his greatest poems was written on the back of a handbill for a local election.
John Clare was a casual farm labourer, but at the village school he attended as a boy he acquired a passion for reading which built a fierce need in him to become a poet, a completely extraordinary ambition for a peasant in 19th century England. Stunted by malnutrition he worked as a weeder and hay-maker, stacking bales, and occasionally found other employment serving in a pub, plowing, looking after animals, as a militiaman, working in fencing and hedging gangs, scouring out fish ponds and labouring in a lime works.

Yet all this time the passion for poetry never died in him.
"I could not stop my thoughts and often failed to keep them till night, so when I fancied I had hit upon a good image or natural description I used to sneak into a corner of the garden and clap it down, but the appearance of my employers often put my fancies to flight and made me lose the thought and the muse together, for I have always felt anxious to conceal my scribbling and would as leave have confessed to be a robber as a rhymer."
When he got the chance he wrote down what he saw with indelible clarity: it is what it is. Here is John Clare, casual labourer, starting with one of his favourite phrases "I love," in a wonderfully clear and simple sonnet:
Emmonsails Heath in Winter
I love to see the old heath's withered brake
Mingle its crimpled leaves with furze and ling
While the old heron from the lonely lake
Starts slow and flaps his melancholy wing
And oddling crow in idle motions swing
On the half-rotten ash tree's topmost twig
Beside whose trunk the gypsy makes his bed –
Up flies the bouncing woodcock from the brig
Where a black quagmire quakes beneath the tread;
The fieldfare chatters in the whistling thorn
And for the awe round fields and closen rove
And coy bumbarrels twenty in a drove
Flit down the hedgerows in the frozen plain
And hang on little twigs and start again.
"Awe" is a dialect term for hawthorn berry, "closen" are small fields, and "bumbarrel" is a long-tailed bird. The effect, as one modern poet, John Ashbery, has said, is of "reinserting me in my present, of reestablishing now."
When John Clare began to be noticed by patrons and editors he was valued first and foremost as a freak. The title page of his first book described him as a Northampton peasant. He was, very briefly, a sensation. But the break for him hardly lasted. Each succeeding book of his – Poems Descriptive, The Village Minstrel, The Shepherd's Calendar and The Rural Muse – can be seen now to have been better then the previous one – but each sold fewer copies. Fashion abandoned him to his life of extreme poverty and hard manual labour. And his life was made even worse because he had once been noticed as a writer:
"I live here among the ignorant like a lost man in fact like one whom the rest seems careless of having anything to do with – they hardly dare talk in my company for fear I should mention them in my writings and I find more pleasure in wandering the fields than in musing among my silent neighbours who are insensible to every thing but toiling and talking of it and that to no purpose."
Gradually he went mad. "I had a variety of minds about me and all of them unsettled." He began to see spirits of hideous description moving about on the ceiling of his room. He suffered long depressive spells alternating with manic episodes. On July 8, 1837, he was admitted to Dr Allen's lunatic asylum in far away Essex. There he thought sometimes he was a prizefighter, sometimes that he had written Shakespeare's plays and sometimes that he was Horatio Nelson on the high seas. In July, 1841, he escaped and walked the hundred miles back to his home, so hungry on the way that he ate grass. But he had quite lost himself in madness. By the end of 1841 he was re-admitted, this time to the Northampton General Lunatic Asylum. He remained there for the rest of his life in complete obscurity until he died of a stroke in 1864 at the age of seventy.
Nearly a century passed before John Clare's poems were re-discovered and given their full due. Moreover, manuscripts were found which showed that some of his greatest poems had been written early in his years in the Northampton lunatic asylum. From time to time, before night fell for good, the clouds of madness parted and a marvellous light poured through. One poem written then seems to me, as I have come to read it again and again, the most heart-rending poem ever written.
I Am
I am – yet what I am, none cares or knows;
My friends forsake me like a memory lost:
I am the self-consumer of my woes –
They rise and vanish in oblivion's host
Like shadows in love- frenzied stifled throes –
And yet I am and love – like vapours tossed
Into the nothingness of scorn and noise
Into the living sea of waking dreams
Where there is neither sense of life or joys
But the vast shipwreck of my life's esteems;
Even the dearest that I love the best
Are strange – nay, rather, stranger than the rest.
I long for scenes where man hath never trod,
A place where woman never smiled or wept,
There to abide with my creator, God,
Sleep as I in childhood sweetly slept,
Untroubling and untroubled where I lie,
The grass below – above, the vaulted sky.
Comments
CARACAS/HOUSTON (Reuters) – Venezuela's unraveling socialist government is increasingly turning to ally Russia for the cash and credit it needs to survive – and offering prized state-owned oil assets in return, sources familiar with the negotiations told Reuters.
By Carl Bildt CHICAGO – We are now in the final days of the industrial age.

During Men's Health Week, the man/woman in the street were asked to speak on their lifestyles and what they do to maintain their health or to encourage their significant others to lead healthy lifestyles.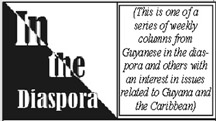 By The Caribbean Voice There are no reliable statistics on the amount of persons engaging in the use of illegal drugs or those described as addicts.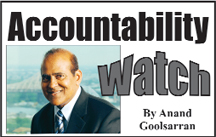 In last week's article, we referred to the two recognized methods of accounting for costs relating to the exploration, development and production of crude oil and natural gas: the "successful efforts" (SE) method and the "full cost" (FC) method.