By Lisa Outar
Born in Port Mourant, Guyana and living in the US since 1985, Lisa Outar teaches
at St. John's University.

Founded in 2007 and based in New York City, Jahajee Sisters (http://www.jahajeesisters.org/) has forged new ground in organizing and attempting to empower a multigenerational constituency of diasporic Indo-Caribbean women in ways that affect their social, political, and everyday lives.  The interview from which this excerpt was taken was conducted with two members of the organization's Steering Committee, Suzanne Persard and Simone Devi Jhingoor (both founding members of the organization). The full interview will soon be published in a Special Issue of Caribbean Review of Gender Studies on Indo-Caribbean feminisms, edited by Lisa Outar and Gabrielle Jamela Hosein (http://sta.uwi.edu/crgs/).
Lisa Outar: Can you tell us a bit about the birth of Jahajee Sisters?
Jahajee Sisters: Frustrated by gender-based oppression and the silence surrounding it, in 2007, four Indo-Caribbean women came together to create a space for dialogue among women in our community. We began organizing the first ever Indo-Caribbean Women's Empowerment Summit.  During planning for the Summit, in March 2007, 20-year-old Natasha Ramen, a Guyanese woman from Hollis Queens, was slashed to death by her alleged rapist, also Guyanese. There was no outcry from the community, and it seemed like violence against women had become so widely accepted that a crime as heinous as Natasha's murder did not warrant dialogue or action.  Enraged, organizers of the summit grew even more determined.  On March 31, 2007, the first Indo-Caribbean Women's Empowerment Summit was held, where more than 30 women discussed domestic violence and cultural perpetuation of patriarchy.  After the Summit, on May 10, 2007, 22-year-old Guiatree Hardat, Guyanese, was shot in the head by her fiancé, an Indo-Caribbean New York Police Department officer.  After the death of a second Indo-Caribbean sister, it became clear to organizers that continued programming addressing gender-based violence in our community was crucial.  As a result, we formed the "Indo-Caribbean Women's Empowerment Group."  Later, joined by activists engaged in anti-domestic violence work, we organized the second annual Indo-Caribbean Women's Empowerment Summit, held in April 2008 in partnership with Sakhi for South Asian Women.  Following the 2008 Summit, the group was renamed "Jahajee Sisters" to honor the strength of our female ancestors.
Jahajee Sisters is the only organization in the United States and the Caribbean organizing Indo-Caribbean women and supporting their leadership development; organizing Indo-Caribbean women against gender-based oppression; and advocating for their politicization.  This is what makes us so unique within the context of Caribbean feminism.  Indo-Caribbean women are marginalized not only within the Caribbean community, but also within South Asian communities, not to mention the United States, as a whole.  We are facing the same social injustices as many women of color in the United States and it is important to have a movement-building organization that not only understands our distinct culture, but also can advocate for and represent our needs.
LO: Why turn to the image of the boat that bore Indians into indentureship for the name of your organization?
JS: During the period of Indian indentureship (1838-1917), Jahajee Bhai and Jahajee Bahen (ship brother and ship sister) were terms used by our ancestors to unify and support each other in the midst of the tumultuous voyage by sea from India to the Caribbean.  Despite adversity, our ancestors who arrived in the Caribbean were able to forge bonds, survive and thrive.  In this spirit, Jahajee Sisters seeks to build community and power to address critical issues challenging Indo-Caribbean women. Reclaiming the word "Jahajee" in our name and in our work is the way we have chosen to honor our history.
LO: What particular moments of Indo-Caribbean history do you think are important for Indo-Caribbean women to retain and mobilize in quests for social justice?
JS: The parts of Indo-Caribbean history that are important for Indo-Caribbean women to retain in their quests for social justice are the heroines like Rajkumari Singh and Kowsilla, who were great activists and revolutionaries.  Remembering their stories is a source of inspiration to women in our community who may not have realized that there were women leaders in the Caribbean who raised their voice, stood up for what they believed in and as a result were able to effect change.
The other part of our history that is important to retain is the memory of what our female ancestors endured through the experience of indentureship and working on the sugar plantations.  For example, during the early stages of indentureship, there was a shortage of women laborers in the Caribbean.  The ratio was 1 woman to 10 men and this significant imbalance often resulted in men staking a claim to a woman whom they marked as theirs.  Women were also sexually assaulted and raped on plantations by overseers, while sexual violence was also prevalent in families and in the Indo-Caribbean community itself.  This is a part of our history that needs to be critically explored to understand the way historical trauma continues to affect women and families within our community.
Through our annual Women's Empower-ment Summits, Jahajee Sisters has lifted up the stories of these women who are an important part of Indo-Caribbean history.  Our first summit honored Kowsilla, who advocated for fair wages on a sugar estate in Leonora, Guyana, and died a martyr for her organizing efforts.  Our second summit also honored Rajkumari Singh, Guyanese artist and activist, who is often described as "one of the first Indo-Guyanese women writers to speak to both the ethnic and gender issues facing Indo-Caribbean women."
LO: What kinds of grassroots organizing does Jahajee Sisters do?
JS: Jahajee Sisters organizes women around ending gender-based oppression and violence in the Indo-Caribbean community in Richmond Hill, Queens.  We envision a world in which sisterhood is so strong it stomps out patriarchy, ends violence against women, and restores balance.
It was actually through conversations that arose amongst ourselves and in our Young Women's Leadership Institute that we realized, as Indo-Caribbean women, we had not received the information we needed to make the most informed decisions regarding our bodies from our moms or from the schools we had attended.  As a result, we decided to launch an organizing initiative in the community called the Campaign for Healthy Youth because we recognize the need for young women to understand their bodies and know how to keep themselves safe.
Some of the tangible ways we are implementing this initiative is through having inter-generational dialogues between mothers and daughters at monthly Sister Circle gatherings, conducting a needs assessment to explore our community's values, as well as ensuring the proper implementation of a comprehensive sex-education mandate, which was passed in New York City in August 2011, in our middle and high schools.
LO: What are the challenges for organizing within the Indo-Caribbean community?  JS: Our biggest challenge for organizing within the Indo-Caribbean community is the very thing we are trying to undo—patriarchy.  The historical practice of silence and acceptance is so ingrained in our community, in our culture, and in our women, that it is hard to get women to come out and break the silence.  And, we are dealing with a situation where we are seen as being "man-haters" by people in our community rather than folks understanding the need and legitimacy of the spaces we create for women.  However, once we do get women to come out, understand the work we are trying to do, and participate in our programming, they do open up and it is the most powerful thing to witness—women sharing their stories, speaking their truth, and excited to become an agent of transformation within their community.
LO: What are the models for feminist action that Jahajee Sister draws upon?
JS: Jahajee Sisters has drawn from models of feminist action that are rooted in decolonizing feminism, while acknowledging that even the term "feminism" might be problematic for some of our constituency. As Patricia Mohammed has said, Indo-Caribbean women have historically been viewed as marginal to the Caribbean feminist movement, so Jahajee Sisters is revolutionary in our stance to centralize Indo-Caribbean women at the heart of our struggle. For Jahajee Sisters, feminism is rooted in the self-empowerment and self-determination of Indo-Caribbean women.
We organize inspired by the traditions of Afro-Caribbean women, who have, for hundreds of years, developed their own survival strategies and deployed female networks as modes of self-preservation in the face of colonization.  In the tradition of Audre Lorde, one of the most famous Caribbean poet-feminists, we affirm that our silence indeed will not protect us, that "when we are silent, we are still afraid so it is better to speak remembering we were never meant to survive."  It is in this spirit of breaking silences that Jahajee Sisters survives.
LO: What are the prevalent expectations of Indo-Caribbean women and girls that you see among your constituency?
JS: Our constituency is mostly composed of women from Jamaica, Guyana, Trinidad, and Suriname, who are multi-generational, come from several religious backgrounds, include members of the LGBTQ [Lesbian/Gay/Bisexual/ Transgendered/Queer] community, and have many different ways of relating to Indo-Caribbean identity.  There are definite expectations that Indo-Caribbean girls are particularly challenged by, including getting married (to a man) and having children; pressures to conform in their gender identities; pressures to "preserve" their religion and traditions; pressures to be "pure," to not talk about taboos like sex and sexuality, to not engage in conversations about subjects like domestic violence and gender.  Within so-called "progressive" Indo-Caribbean spaces of religious and civic engagement, young men are nurtured and recognized as the leaders of tomorrow in ways that young Indo-Caribbean women are not.  The work we do is a clear way in which we are attempting to shift the paradigm of the traditional expectations thrust upon Indo-Caribbean girls and women, to support and nurture their leadership potential, to provide opportunities for them that might not necessarily be supported by their own families or religious communities, and to emphasize their empowerment through self-determination.
LO: Do you do any outreach to Indo-Caribbean men?
The first day of our annual women's empowerment summit is open to all community members, including men, but most of our other programming focuses on Indo-Caribbean women.  We believe that men must recognize the power they have as allies to women in their families and communities, and ending gender-based violence and oppression is not just a women's issue—it's a cultural and societal issue.  The work begins by Indo-Caribbean men speaking to their fathers and sons and brothers and uncles about violence against women, about domestic and sexual violence, and having conversations about challenging male supremacy in families, Indo-Caribbean culture, and ultimately society.
LO: Does Jahajee Sisters attempt to coordinate efforts at organizing women in the diaspora with those in the Caribbean?
JS: Jahajee Sisters has focused on organizing women in the US, though we have been in touch with women organizing feminist movements in the Caribbean and some women who have been a part of our constituency have returned to the Caribbean to organize around social justice issues.  Transnational organizing is a complex issue, particularly because we are all living in the US and we are wary of replicating a narrative of West-Global South narratives whereby we would somehow be transporting our brand of organizing to the Caribbean.  Needless to say, we are definitely open and always excited to engage with regional Caribbean activists and their own work and successes back home.
Comments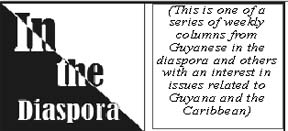 By Dhanaiswary Jaganauth Dhanaiswary Jaganauth is a lecturer at the University of Guyana World Mother Language Day has been celebrated worldwide every February 21 for nearly twenty years now. 

By Aminta Kilawan Narine Aminta Kilawan-Narine is an attorney, community activist, and co-founder of Sadhana: Coalition of Progressive Hindus, which is committed to promoting social justice through the values at the heart of the Hindu faith.

By Gabrielle Jamela Hosein Gabrielle Jamela Hosein is a feminist, activist, poet and Lecturer at the University of the West Indies, St.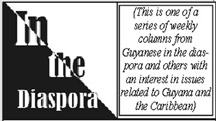 The Caribbean Voice The Caribbean Voice is a New York-based NGO that has been involved in social activism since its launch in 1998 While the Caribbean Voice (TCV) leaves the debate about youth leadership in politics to others, we must point out that on the social landscape young people are stepping up and making a significant difference.

By Deo Persaud Born in Guyana, Deo Persaud grew up in Georgetown.