One conversation Guyanese living overseas often indulge in is why they migrated, why they live away from their homeland.
Obviously, anyone can list a million reasons for leaving this country: better quality of life, education, honest day's pay for an honest day's work, escaping the severe threat to life and limb on the roadways and from criminals.
Underlying all of that, though, people search for a society where they feel inspired to work hard, live honest, strive for excellence. People want to feel they have a fair chance at their dreams and aspirations.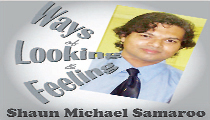 How do Guyanese feel about their homeland?
In our national state of passive resignation, we do not take ownership of our nation. We abdicate our responsibilities. We expect someone else to do the work of cleaning up the place.
We fold our hands and wait for something, somehow, from somewhere to rescue us. Often, it's the remittance dollars that save the day. For the government, it's the aid funds.
Our children suffer from poor education, with literacy rates at an all time low, and we carry on the status quo, with hardly a sense of urgency, vision or passion. Parents, teachers, officials all seem to just sit there doing nothing, while we lose another generation of our children to poverty, poor education and all manner of abuse.
We allow our local communities to crumble, for municipal elections to lapse for nearly two decades. And things fall apart around us, with our hands folded in fading expectations.
We look around and find the scapegoat – bad governance, those others, corruption, brain drain. We find scapegoats in these abstract terms, not willing to do the hard work to get to the root of who perpetuates these social diseases on the nation's soul.
It's a psychological thing: people want a society moving and propelling them in a definite direction. People want to advance, to move towards a future they imagine is possible.
As much as individual initiative plays the crucial role in one's development, the context of being part of a dynamic social unit, of an advancing society, provides the driving force for personal development.
Anyone has the innate power to rise from a devastated social environment, as we see throughout history. But the average person demands a society that feels like it is propelling forward, much like a river current sweeping towards a definite direction. The individual, caught up in this inevitable movement towards progress, moves forward to a rewarding life.
In the US, Canada, and even many Caribbean countries, Guyanese have found such a culture, conducive to their heart's desires and aspirations. At home, they see very little personal possibility.
Guyanese in Suriname, Venezuela, Brazil, Barbados and Trinidad and Tobago generally live at a standard way above the village life here.
Why do we migrate?
President Ramotar days ago lamented the "startling" numbers of Guyanese who live overseas, and challenged the foreign missions to woo the diaspora to play a role in this country.
The President, and his ambassadors and consulate leaders around the world, must see that Guyanese at home do not feel their country offers them that sense of progressing. So they search for a way to move to a new society that offers them that feeling.
We migrate because we feel a sense of despair in this land. Most people do not see themselves achieving the kind of lifestyle they know is possible.
On TV, and in the countries of neighbouring Caricom and South American states, and in the lives of their relatives in Europe and North America and elsewhere, they see progress, personal development and generational advancement.
Here, we seem unable to inspire our people that we are a society on the move, that each Guyanese could wake up every day and dedicate his or her heart to a life of possibilities.
Too many of those who achieve wealth and comfort here resort to shameful economic practices.
The average cane-cutter, farmer, nurse, teacher, entrepreneur, writer, musician, carpenter, market vendor, faces a dismal tomorrow.  And they feel trapped in that cycle of a poor lifestyle. They continue to seek to escape their homeland because they see it as a wasteland.
Those who stay and could afford it send their children and family abroad to study and build a life overseas.
We face a fundamental problem in this country: we fail to cultivate in the heart of every citizen a sense of belonging, of ownership, of possibilities. We fail to nurture a national spirit of belief in a Guyanese Dream.
We drift aimless. We lack leaders who speak to us, stirring our hearts and minds as Guyanese.
Our political landscape continues to perpetuate fractured, cracked and uninspiring leadership. We hardly see any new ideas flowing out of Parliament, which seems more a crab-barrel bar room than a place for mapping the nation's vision and purpose.
Why do we migrate?
We simply want to feel that our society is taking us forward. That's all we ask. This psychological state that the individual Guyanese suffers from creates a nation of migrants, constantly seeking to find a place where we feel we could move forward.
The solution is simple: cultivate a national conversation where every Guyanese feel a sense of belonging and importance, where every person takes ownership and responsibility for his or her local community, where people feel a sense of purpose, of personal development, of a society that is working and advancing.
How life occurs to us is our key motivator. And how life occurs has a lot to do with the talk around us, the spirit inherent in how we communicate with each other.
We could transform how we perform, how we feel about our Guyanese nation, if we re-write the national conversation, if we inspire the market vendors and the public square to see a Guyanese nation moving forward, each of us feeling that sense of possibility in the air.
In such a social environment, our people will not want to migrate.
All over the world, our people talk of why our Guyanese nation now spans the global village. They feel  their homeland is stagnant, while their adopted country moves towards their dreams.
Comments

We now mark the fifth anniversary of this column in this exemplary, nation-defining newspaper, and it's been an inspiring, beautiful journey.

We experience life, see our days, hear emotion and meaning when we interact with others, according to our presupposition, that unconscious window through which we see the world, each person's point of view unique, each one's frame of reference of a different shade than any other.

Our nation's main wealth lies in the human capital of Guyanese; the skills, talents, knowledge, energy, initiative and creativity of each individual.

So easy it is to fall under an oppressive cloud in this society, focused on inconsequential stuff, ignoring the beauty of our human potential.

Word on the streets is that people across this nation react with caution and pessimism to the political backdrop existing in the country.