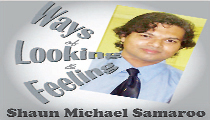 Guyanese in New York and Ontario, struck with the force of Hurricane Sandy's winds this week, feel a renewed awareness of how blessed is their homeland.
Here in Guyana we are so free of natural disasters. Much of the flooding we experience when it rains comes from inept management and poor local governance.
We are truly blessed with a country of peace, fertile fruitfulness and lovely weather.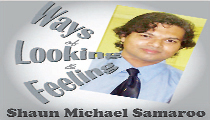 It's a sad pity that our nation languishes so badly as a poor, undeveloped society. Our national literacy rate, fallen to the crisis level of around 20 percent, is absolutely shameful.
The migration trend continues unabated. Migration started its big wave in the 1960's, and has not let up ever since. Now, hundreds of thousands of Guyanese live all over the world – in Europe, South America, the Caribbean and North America.
What would it take to bring back the 89 percent of skilled Guyanese who make their homes overseas?
The State makes a token effort, with a new housing development, for example, for retiring persons from the Diaspora to return here.
How about a comprehensive programme to attract younger folks? We need engineers, writers, media experts, administrators, managers, entrepreneurs, and a long list of skilled people.
We see how such programmes work in Jamaica, India, China and many developed nations.
Here, we continue to depend on a local population unable to cope with the knowledge demands of the 21st century global village. So migrant Guyanese remain dogged in battling life in countries where they suffer stressful lifestyles, face natural disasters, undergo financial woes, battle high costs of living, and deal with eroding social values.
At least two or three generations of our people, born to migrant Guyanese parents, now live as hybrid citizens.
These may find this country a bit strange, with their foreign accents and socio-cultural preferences for city life in New York, Toronto or London.
Many people born to Guyanese parents in Barbados, Canada, the US or England may not be so ready to return to their homeland.
But we still harbour a global Guyanese nation whose heart remains rooted in this country, who face off with a Hurricane Sandy and look with longing nostalgia to their village life of sunny peacefulness.
So easy and beautiful it is to live the simple life here: to plant a kitchen garden, cultivate a fish pond, mind chicken and livestock, eat fruit right off the mango, cherry, tamarind and pear tree.
So easy it is to lie under a coconut tree and read a book.
What a blessed land is our Guyana. Yet, it is so tragically caught in the trap of social decay, political strife and a leadership crisis of enormously tragic consequences.
Most Guyanese would say that if the Government would "be better", the country would rise to claim its rightful place among the nations of the 21st century global village.
And we must squarely blame our governments, since we became an independent nation, for the doldrums we find ourselves in today as a society.
But we also face a society harbouring self-inflicted social ills of devastating effect on our people. For example, the two largest corporations in this land are rum producers, and every village houses at least three rumshops.
Our villages lack libraries, recreation centres and mentoring facilities, but house liquor restaurants in abundance. What does this say about us as a nation?
So we find the private sector, too, refusing to take responsibility to build our society for sound living.
When the Government and the Private Sector fail to construct a social platform for our people, what do we do?
One of our great blessings may also be that Guyana embraces the concept of a Cooperative Republic. Not only does this present a great opportunity for the people to join hands and build this country, but it also distinguishes us as unique in the world: the only nation with this vision.
In fact, we could become a model to mankind on how to build a nation, were we to embrace L F S Burnham's vision of Cooperatives.
Co-ops make up a big movement in Canada. The concept is quite sensible, and makes perfect sense for a nation like ours.
In this vision, we may find the solution to achieve that tipping point to progress.
If citizens form co-ops across this land, working together to lobby the State, to build village roads and develop farms and raise the future generation and make sure each community has a solid social safety net, we would leap ahead.
If we could form co-ops to develop innovative solutions to local community problems, and to launch entrepreneurial enterprises and to develop local knowledge communities, we would leap ahead.
If we join hands and heads and hearts to form co-ops to develop our local drainage and irrigation system and to map a vision for our village and to develop leaders among us, we would leap ahead.
If we would form co-ops to manage Georgetown and return it to the glory of the Garden City, we would leap ahead.
The Guyanese nation is so enormously blessed. Everyone of us knows this. We see it every day.
Guyanese all over the world face each day knowing that their homeland is a blessed land.
They long with nostalgic fervour to be able to return home to a decent lifestyle.
We have so much going for us. But the Government fails. Our private sector fails. Our leaders in Parliament fail. It is left to us, the people on the ground, to build this society – ground up.
We have some organizations – like Transparency International, Guyana, and the Human Rights Association and several others – around which we could gather to seek corporate and governance justice.
But in terms of developmental initiative and actually getting this nation on track, citizens organized under the banner of cooperatives could accomplish so much for this blessed land.
We have those two gifts – the enshrined constitutional cooperative movement, and a blessed natural environment.
What more could we ask for?
Around the Web