Hope renews the heart, re-energizes the soul and regenerates one's optimism to strive for a fruitful life.
This week marks one year since the Guyanese nation felt such a hope. As citizens went to the polls last year November, they harboured hope in their hearts that the national polls would deliver a new future for the nation.
Such hope bore democratic fruit, as we created history with our first minority government since political independence.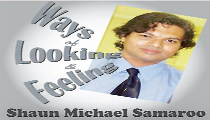 With promises of rejuvenated governance, a spirit of reconciliation in national affairs, and real progress for citizens, the new Opposition-majority National Assembly took its place in our history.
That was a year ago.
The ruling People's Progressive Party, with its dour General Secretary Donald Ramotar as the uninspiring President, had squeaked into Government, but the Opposition promised to rein in gross government excesses through the renewed Parliament.
Citizens hoped a lot would happen through 2012 to transform our nation.
Parliamentarians said they would hold the Government to financial accountability, clean up the shameful disgrace of the State media, and play a dynamic role in managing national affairs.
Now, a year later, citizens feel a sense of hopelessness creeping in. The Opposition started off with rancorous cuts to the 2012 National Budget, which the Government found a way around. Then it got a Commission of Inquiry to be constituted for the Linden shootings, only to express dissatisfaction with its work and Chairman's compensation.
Citizens watched Parliament, and as the year progressed, hope for real progress faded with every sitting of the National Assembly.
Government found ways to delay and frustrate the work of the Parliament. And the Opposition developed a reputation for lack of leadership, vision, strategy and focus.
Speaker Raphael Trotman, cognisant of his historic role as the first Speaker from the opposition benches, worked hard for professional Parliamentary leadership. Trotman provoked the ire of both his opposition colleagues and the Government, thus showing his independence of thinking.
His singular crusade to promote unity in the House and to bring the opposing sides to the same table in a spirit of cooperation and mutual respect met with little success. But he stood out from the fray that citizens had to endure throughout the year.
Starting with the failed efforts of the Tripartite body that sought unity after the divisive Poll results, Trotman exemplified the kind of leadership Guyanese wanted to see happen in the minority Parliament.
However, for his efforts, the Attorney General and Government referred nearly every Parliamentary decision against it, to the courts – a clear case of seeking to establish a dictatorship of the judiciary over Parliament.
We saw in 2012 the real teeth of the 1980 Constitution, gnawing sense out of our democracy. Our Parliament is toothless and without real effect. President Ramotar, in fact, slammed Trotman last week, claiming he has no confidence in the Speaker – all because the Speaker maintains an impartial stance in the House.
We saw Government's continued arrogance and disrespect for democratic institutions in this country with the shocking, daring police harassment of two Stabroek News reporters this week, because a State official got unhappy with their reporting.
Citizens lose hope when they see a minority-elected Government display absolutely no respect for the majority who voted against the ruling party. And citizens lose hope when they see their Parliament unable to stop Government's continued harassment and abuse of democratic institutions in this country, including the media – but also Parliament.
In 2012 we remained where we were before those historic polls: no local government elections, a capital city rotting at its core, the alarming fall of the national literacy rate, corruption in awarding of State contracts, incompetent contractors winning massive construction contracts, a mediocre Georgetown public hospital with questionable maternal deaths, unsolved murders and blatant executions, lack of results from local law enforcement against the illegal drug trade, and continued global shipment of narcotics from our ports.
Citizens feel a sense of hopelessness, seeing even gains at historic National Polls as unable to transform their country's governance.
Citizens see the lack of leadership in this country and retreat to their apathy, feeling helpless, hopeless and voiceless.
Government seems to govern only for the minority section of the society that voted for it. The majority who voted against it feel left out and marginalized.
The Opposition lost its chance to make a resounding impact on this nation's development in 2012, and it could be the fault of the Constitutional system, which demotes Parliament to virtually a talk shop.
But the Opposition failed to demonstrate leadership and vision. Citizens now talk of the Opposition's role in Parliament with disgust, dismissing any hope that Parliament could make a real difference in how their society is governed.
The Auditor General's report, laid in Parliament, generated very little comment from Parliamentarians, despite the gross accounting violations laid out therein.
This country is left with private citizen initiatives to keep Government from bulldozing its way over the rights of citizens. The private, professional media and such organizations as Transparency International Guyana Institute offer a flicker of hope that this nation could anticipate a future, someday, as a society experiencing real democracy.
But in 2012, Parliament failed to inspire citizens. Parliamentarians failed to build on that ground-breaking hope citizens experienced last year. The National Assembly, in the past year, projected to the citizen a confused, babbling, wayward set of suited ladies and gentlemen battling each other with vicious words, but accomplishing nothing of real substance.
This nation cannot advance, without the citizen seeing real hope in Parliamentary leaders. When the citizen walks past Parliament Buildings he or she wants to know deep in the heart that in that House we have men and women of caring, conscientious hearts looking after our welfare.
We want to know that our elected leaders are efficiently managing our national affairs, and building for us a solid place in the 21st century global village.
Last November these leaders campaigned across the country – in the hinterland, Berbice, Essequibo, Georgetown – promising hope to the people of this nation.
Today, where is that renewed hope?
Comments

We now mark the fifth anniversary of this column in this exemplary, nation-defining newspaper, and it's been an inspiring, beautiful journey.

We experience life, see our days, hear emotion and meaning when we interact with others, according to our presupposition, that unconscious window through which we see the world, each person's point of view unique, each one's frame of reference of a different shade than any other.

Our nation's main wealth lies in the human capital of Guyanese; the skills, talents, knowledge, energy, initiative and creativity of each individual.

So easy it is to fall under an oppressive cloud in this society, focused on inconsequential stuff, ignoring the beauty of our human potential.

Word on the streets is that people across this nation react with caution and pessimism to the political backdrop existing in the country.