Guyanese Louise Blenman was recently appointed to the position of Justice of the Appeal Court – Eastern Caribbean Supreme Court, after serving nine years as High Court judge in the Eastern Caribbean Supreme Court.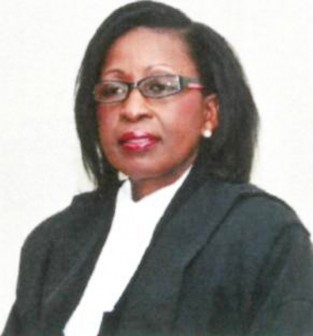 She commenced her current assignment in St Lucia on September 10, having completed her recent 3 year rotation in the Anguilla Judicial Circuit.
While in Anguilla, Justice Blenman also served as Chairperson of the Judicial Education Institute and was lauded for her outstanding contribution to the court and for her personal performance and achievements, at a farewell ceremony in the Anguilla High Court recently. The event was well-attended by members of the private and public bar, the Judicial Department, government officials and members of the public.
Justice Blenman was noted for her adherence to the etiquette of the legal profession; her requirement for members of the bar to communicate with each other in the best interest of their clients; and her admonition to them to prepare their cases properly. She was also complimented for her unwavering dedication to the resolution of disputes and the established protocols and professional standards at the bar. Additionally, she was praised for her intellectual capacity; dedication to hard work; and commitment to the independence and integrity of the law.
Also highlighted were a number of the judicial achievements of Justice Blenman on the Bench which included three of her judgments which received high acclaim in the Court of Appeal of the Eastern Caribbean Supreme Court and in the Privy Council in London.
Senior Counsel in the Attorney General's Chambers, Ivor Greene, expressed his pleasure with the fact that Justice Blenman was one of a number of High Court Judges in Anguilla who were appointed to the OECS Court of Appeal rather than to serve in other jurisdiction. He praised her decorum, professionalism and old school of good manners injected in court with strict adherence to standards and respect for all parties and the court.
Justice Blenman was congratulated for being the third female in the 40-year history of the court to be appointed a judge of the Court of Appeal on a permanent basis. She obtained an Honour's Degree in Law from the University of the West Indies in 1986 and a Master's Degree in Law at the University of London in 2004.
During her career in Guyana, she held the position of Acting Magistrate, 1988; State Counsel, 1988-1991; Senior Legal Adviser; Principal Legal Adviser; Deputy Solicitor-General. She also worked as a Law Lecturer at the University of Guyana, 1992-2000; and later embarked on a private practice before migrating to the OECS where her assignment was that of Solicitor-General of St Lucia. Three years later, in 2003, she was appointed High Court judge, serving in several jurisdictions before taking up her appointment in Anguilla in 2009.
Comments

Congratulations are extended to Sydacia Bunbury, who was awarded a Master of Science Degree with distinction in Rehabilitation and Mental Health Counseling from Hofstra University, Long Island, New York in December 2012.

Congratulations to Jennifer Cumberbatch who graduated with a Master of Education Degree from the University of Guyana.

Congratulations are extended to Mohan Samwaru aka 'Sir Mohan' of Area 'Y' Cummings Lodge on his completion of a Masters Degree in Business Administration (MBA).

Congratulations to our beloved son Richard Brendon Kansinally who graduated with a BSc Degree in Civil Engineering (distinction) We are proud of you.

Zola Efuru Maison graduated with Honours with a Bachelor of Arts Degree  in Education and also gained the President's Award at the University of St Maarten, Netherlands Antilles on the 16th June, 2012.