Wismar, Linden lost power after a falling mango tree dislodged power lines yesterday.
The incident occurred at 22 Burnham Drive, at Wismar, shortly after three and saw the entire Wismar without power. By press time, power had been restored to some areas.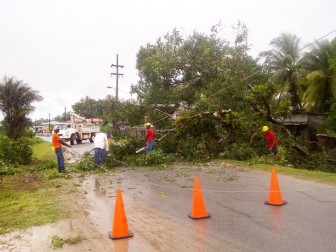 Claude Vallet, 78, who was the owner of the tree, said that two reports were made to the Linden Utility Services Co-op Society Limited (LUSCSL) by a neighbour and his foster daughter.
"Dis morning, meh neighbour call out and tell me dat deh cables sparking because dah coconut tree touching the wires," said Vallet. It was later discovered that it was not the coconut tree but a huge mango tree that was in the yard.
He said a call was made to the LUSCSL but no one came.
Approximately one hour before the tree fell, his foster daughter told him that the cables were sparking. "Again we call and even went into them and tell them what going on."
This time field workers visited and left after a brief inspection. "Soon as they left sah, all I hear is "badam" and… big sparking up," Vallet said, adding that he was thankful to God that no one was passing along the road at the time.
When Stabroek News visited the scene, LUSCSL workers were removing the tree off the cables and the road.
Several residents stood around encouraging the workers in hopes that the tree would have been removed quickly and power returned.
The incident cut off the traffic flow along Burnham Drive for hours, affecting access to and from Section 'C' Christianburg and Blue Berry Hill.
Around the Web