Two Region 10 departments under the Education and Health ministries will now be outfitted with a set of office equipment, compliments of the US Embassy's Humanitarian Assistance Programme.
Officers attached to the US unit on Wednesday donated three Dell computers, one HP Deskjet printer and two 27" television sets.
The items were received by Regional Chairman Sharma Solomon. Solomon said that a team from the US Embassy Humanitarian Assistance Programme had visited his office with an offer to render needed assistance to the region.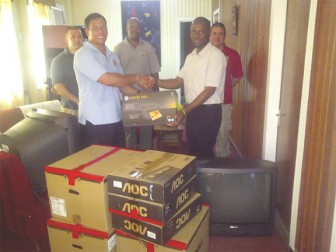 He said that a list of needed items was given to the team, who returned on Wednesday with some of the articles requested.
Speaking with Stabroek News, Director of the US Embassy Humanitarian Assistance Programme Nick Rogers said that more is yet to come.
"These items are what we had available immediately and so we decided not to wait until we get more, but to bring what we have at hand presently," he said.
He added that although they might not be able to provide every item requested by the RDC, it is highly likely that they would be able to provide more. He said that in 2010, the US body had made a donation to the RDC and will continue to do whatever they can to assist the government departments.
Solomon is to meet with the heads of the two regional departments to decide on the allocation of the items.
Around the Web