Judith Seymour, a Guyanese woman, was among seven persons killed when an enraged former student opened fire at an Oakland, California nursing school on Monday morning.
The shooter has been identified as One Goh and has since been charged.
A tribute to Seymour in yesterday's San Francisco Chronicle said that she had the healing touch.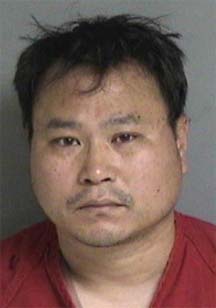 "Her parents were both nurses in New York before moving back to their native Guyana, and Seymour had been a certified nursing assistant before spending much of her career as a senior tax analyst.
"But when she was laid off, and at age 53, Seymour, who lived in San Jose, went back to nursing and was looking forward to graduating from Oikos University in June and getting her license.
"She regularly commuted to the school in Oakland and sometimes to the state prison in Vacaville, where she had clinical training, said her partner of eight years, Timothy Brown, 55, a union representative.
""I'm in disbelief and shock right now," Brown said from the couple's home on Tuesday afternoon, having watched the horror on television the day before. He ultimately learned of Seymour's death from a friend, who was notified by a nursing instructor.
"Seymour's Ford – traced by GPS after Brown had not heard from her – was still parked in the university lot Tuesday evening.
""She was very excited, happy and proud" at completing her training in two months, Brown said, adding that nursing came naturally to Seymour, a leader of a tight-knit class at Oikos.
""Everyone who met her knew that she was down to earth, they loved her instantly, they could see her gentle, loving nature," Brown said.
""She had a great bedside manner and she could establish a rapport with patients," he said. "She was very tender. She had the touch."
"Seymour was also proud of her two adult children, Camella and Brian, Brown said, and was looking forward to seeing her daughter earn her master's degree in business management. Brian is attending community college in San Jose.
""We're devastated and heartbroken," Brown said. "We're getting a lot of love and support. I keep thinking she will be there tomorrow, and she'll walk through the door", the San Francisco Chronicle reported.
A community newspaper, the Contra Costa Times said the victims came from as far as Tibet, and from as near as Fremont, Calif.
It said that the Alameda Coroner's Office  on Tuesday      identified six of the seven victims who died: Lydia H. Sim, 21, of Hayward; Sonam Chodon, 33, of El Cerrito; Grace Kim, 23, of Union City; Tshering Rinzing Bhutia, 38, of San Francisco;  Seymour, 53, of San Jose, and Doris Chibuko, 40, of San Leandro. The family of Oakland's Katleen Ping, 24, confirmed she was the seventh fatality.
The three victims who survived their wounds had been released from hospitals by yesterday afternoon. Of the three, only Dawinder Kaur, 19, of Santa Clara has been identified, the report said.
Of Seymour, it said that with her job as a tax analyst outsourced to India, she decided to follow in her parents' footsteps by getting a nursing degree.
She was just two months away from reaching that dream when the attack occurred.
"(I'm) shocked, devastated, heartbroken," her fiancé Brown said. "She really loved her classmates. She was proud and happy that she was going to be a nurse."
Seymour was also passionate about her faith and, most of all, her family.
"To me, she was an angel, and she was a very loving person and that's why everyone that met her just fell so in love with her," Brown said.
Around the Web