US Ambassador Brent Hardt met with two Guyanese women entrepreneurs who recently participated in the Caribbean Women Entrepreneurship Forum in Washington DC.
According to a press release from the Embassy, the Ambassador emphasised that the Forum reflects the US commitment to strengthening entrepreneurship among women and creating new opportunities for women to participate more fully in the global economy.
The participants: Lucia Loretta Desir and Barbara Dublin-Peterkin shared their experiences and discussed how they hope to apply the insights gained from the Forum to empower more women entrepreneurs in Guyana.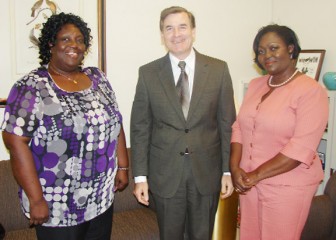 The Forum, sponsored by the US Department of State, was held in Washington DC from March 11 to 13. All 20 participants were Caribbean women entrepreneurs who own or run small or medium-sized enterprises (SME) from any sector, are committed to growing their businesses, and can contribute their on-the-ground experience and expertise to serve as mentors to other women who want to start a business.
Desir and Dublin-Peterkin were given the opportunity to develop a network of women entrepreneurs throughout the Caribbean who are committed to growing their businesses at the SME level and are willing to share best practices for building and sustaining successful businesses in the Caribbean.
Desir is the Managing Director of D&J Shipping Service and has been working there for 11 years. Dublin-Peterkin is the CEO of B's Beauty & Naturopathic Center and Visions of Excellence Personal Development Center. She also owns and manages B&D Farming Complex and Health Resort.
The Embassy seeks to empower women through international exchanges such as the Caribbean Women Entrepreneurship Forum. The Ambassador noted that when women prosper, it doesn't just benefit them; it lifts up their families, their communities and their countries because no society can prosper if half its citizens are left behind.
The meeting was held on Tuesday.
Around the Web