Floodwater from overtopping and breaches in sections of the Essequibo River island of Leguan was receding slowly yesterday as residents expressed frustration at the continuing problem at almost each spring tide.
According to the Government Information Agency (GINA), sections of the sea defence on the island at the villages of Louisiana and Success failed during the spring tide on Friday.
The island has experienced flooding in recent years as a result of weak sea defence systems. Residents in the villages of Henrietta and Phoenix noted yesterday that the entire coastline south of the island was pounded severely during the spring tides.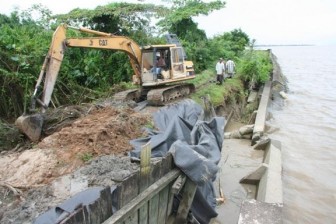 A resident of Phoenix noted yesterday that the sea defence system was unable to prevent the raging waters from overtopping and flooding the area on Friday and Saturday. She said that residents were forced to move their livestock to higher ground since Friday evening when the situation worsened.
Minister within the Agriculture Ministry, Alli Baksh along with head of the National Drainage and Irrigation Authority (NDIA) visited the island on Saturday to inspect emergency works carried out to seal the breaches following the abnormal spring tide.
Baksh told GINA that the ministry was quick in its response to the situation and an excavator was dispatched to the area to seal the beaches since many affected areas are farming communities. He said that the works done were temporary since the area has been earmarked in the national budget for rehabilitation.
"As soon as the National Budget is passed in Parlia-ment, the Ministry will begin its preparation to commence work", Baksh said. According to GINA, the island has benefitted from major sea defence work which will continue this year in order to ensure the integrity of the sea defence systems there.
Baksh also met and interacted with residents on the island during his visit and according to GINA, Local Government Minister, Ganga Persaud had visited the island earlier on Friday morning after receiving news of the situation.
Meanwhile, during an outreach to the sister island of Wakenaam, Baksh told residents that the government will continue to assist them in sustaining their livelihoods.
Baksh noted that major developmental works were ongoing, including drainage and irrigation. "All in all our focus and emphasis is to see how it is that we can better provide a service to you. One of the issues that we have to constantly look at is how we can improve co-operation among farmers so that we can have the best outcome from the drainage and irrigation programme being done on the island," he said.
NDIA Head Lionel Wordsworth, who accompanied Baksh, noted that an excavator which was sent to the island along with a pontoon to maintain and rehabilitate drainage and irrigation structures has ensured that over 30,000 rods of canal and drainage systems were dug on the island.
Residents complained yesterday that  only persons who are close to the administration were benefitting from the use of the excavator.
Around the Web