A fire of unknown origin on Sunday night destroyed a Beterverwagting, East Coast Demerara man's home, leaving him with only the clothes on his back.
Lance Pollard was not at home when fire struck  around 11pm on Sunday.
Pollard said he was at his grandfather's home when a friend informed him that his house was ablaze.  He immediately went to his home, only to find the entire structure engulfed by flames. With the help of neighbours and family members, a bucket brigade was formed to help contain the fire.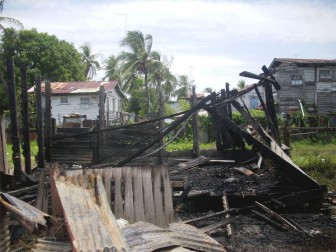 A quick response by members of the Guyana Fire Service saw them preventing the fire from spreading to other buildings nearby.
A sad Pollard said that he did not manage to save anything and estimated his loss at over $300,000. He added that he did not know how the fire could have started, while noting that the house was without electricity.
When Stabroek News visited the scene yesterday, the man's mother, Marcelle Ault, recalled "we were at my father, in front, when somebody say they see fire at the house.
But we couldn't save anything 'cause the blaze was too much."
Pollard said that he will have to stay temporarily with his mother until he can get some help to rebuild his house.
Around the Web