The Visually Impaired Cultural Association of Guyana (VICAG) yesterday donated $20,000 to eleven-year-old Paula Ann Cottam to help her to undergo vitreo retinal surgery in Trinidad.
The girl, who lives in East Ruimveldt, has been visually impaired in the right eye since the age of seven and the disease is now spreading to her left eye.
The surgery which costs US$3,325 has been made possible through the generous contributions of various persons and organizations.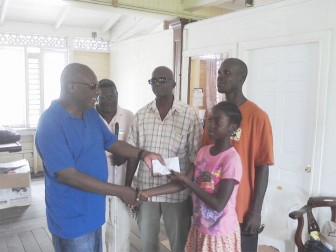 Vice-President of VICAG, Linden Stewart noted that his association is trying to assist persons who are challenged visually, and it is a good opportunity for them to give back to persons in the community.
The child's father Paul Cottam said that his daughter has been greatly affected by the disease which has caused her to be treated differently by some persons.  He noted that he has been trying his best to secure funding for the child's surgery.
He added: "I want to show fathers out there that even though I am visually impaired, I am working hard to assist my child."
Meanwhile, Rudolph Wiggins, a member of VICAG, stated that the donation to the child is from their hearts and  his association is proud of what they are doing.
The  surgery will be done in a day but the girl would have to spend about two weeks in the hospital to recuperate. She will be travelling to Trinidad with her sister sometime later this month.
Around the Web