Nigel Hughes, attorney for the woman who accused Police Commissioner Henry Greene of rape, says he will be writing the Director of Public Prosecutions (DPP) for statements that were gathered during the investigation in order to pursue private criminal prosecution.
"We certainly are planning to do so (file private charges). We have a lot of time to do that," Hughes told Stabroek News yesterday, explaining that the statements would be reviewed to make an assessment of how to proceed.
Since acting Chief Justice Ian Chang quashed the advice of DPP Shalimar Ali-Hack to charge Greene with rape, saying among other things that it was irrational and not likely to secure a conviction, Hughes had said that he planned to file private charges in pursuit of justice for his client.
In speaking on the advice of Attorney General Anil Nandlall to the DPP not to appeal the CJ's decision, Hughes told this newspaper that he knew from the inception that it was not possible.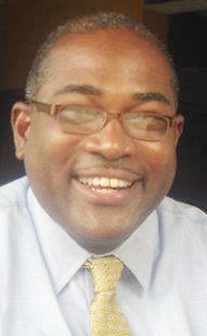 "Once it is a criminal cause of action, we knew that the matter would not attract or be liable to be appealed … so we were aware of that all the time," he explained.
He, however, added that he was surprised that Greene is still on the job. "I would have thought that from the time he made public his admission to having relations with the victim that he would have done the decent thing and resigned," he said.
The lawyer noted that he thought that the government would have put in motion a long time ago "the process by which he should be removed from office." In light of the case, he argued, there is no way any member of the force can enjoy the "confidence of the citizenry if he continues to be at the helm."
Asked about his client's state since Justice Chang handed down his judgment, Hughes said that the woman is extremely distraught.
She is also fearful for her safety, he added, since "she calls me often almost every other night telling me that some unidentified car with tinted windows is parked either in front of her bridge or in front of the neighbour's bridge so she is still petrified."
He said that he had advised his client to record the number and lodge a report with the police.
The woman, a mother of two came forward with the allegation last December, which eventually triggered an investigation that included input from special investigators out of Jamaica.
Police Complaints Authority
Meanwhile, the Police Complaints Authority (PCA) has said in response to a letter from Red Thread that it does not have the power to act on Police Commissioner Greene's apparent abuse of office and that a tribunal has to be set up to address the issue.
Red Thread member Karen De Souza told Stabroek News yesterday that the organisation received a response to its letter to the PCA on Greene's behaviour on Thursday.
Greene had said in court documents that he had consensual sex with his accuser. The woman, at the time, was the subject of a criminal investigation and had approached him for help. As a result, Red Thread, among others, has called for his removal from office for his "unethical conduct."
De Souza, during a picketing exercise in front of the High Court, said that PCA Chairman Cecil Kennard, in his response to the organisation, said that the Police Complaints Act does not give him the power to deal with the police commissioner. It was explained in the letter that the PCA can only deal with ranks below the level of police commissioner (from assistant commissioner).
She said that Kennard outlined articles in the constitution including 225 (4) which deal with the issue.
That article deals with the removal from office of certain persons. It states that the president shall act in accordance with the advice of the Judicial Service Commission, in appointing a tribunal consisting of a chairman and at least two other members. Those persons must hold or have held office as a judge or be qualified to be admitted in Guyana as an attorney-at-law. That tribunal is to enquire into the matter and report the findings to the president as well as recommend to him whether the officer ought to be removed from office.
De Souza noted that the process is not a long one and had the matter been looked at since December, when the complaint against Greene was made, it would have been over by now.
Red Thread had also sent a copy of the said letter to the police's Office of Professional Responsibility (OPR) and the Police Service Commission. De Souza said that they are yet to get a reply.
"If Kennard has been able to reply, they should have been able to reply," she noted.
At present, Greene is on leave. He had proceeded on leave to facilitate the investigation, which resulted in the DPP advising that he be charged with rape though this was challenged in court, before a charge could be instituted. There has been no word on when or if he would resume his duties as the Top Cop.
Around the Web