Three men were yesterday charged with multiple counts of armed robbery stemming from recent attacks on Guyanese returning from overseas.
Raul Allen, called 'Fineman,' 31, Ronald Kissoon, 27, and Richard Elliot, 25, received bail after being read the indictable charges by Magistrate Allan Wilson at the Georgetown Magistrates' Court.
Allen, of Cummings Lodge, East Coast Demerara and Kissoon, of James Street, Albouystown, were charged with a total of nine robberies and were granted bail in the sum of $460,000. Elliot, of Bagotville, West Bank Demerara, was charged with eight of the robberies and was granted bail in the sum of $385,000.
All three men were not required to plead to the charges that on April 3, 2012, at Turkeyen, East Coast Demerara, they robbed Ronald Smith, Quincy Richmond and Barbara Ming of both local and US currencies along with numerous valuables, including clothing, jewellery, cell phones, perfumes, cosmetics, and shoes amounting to the sum of $993,500.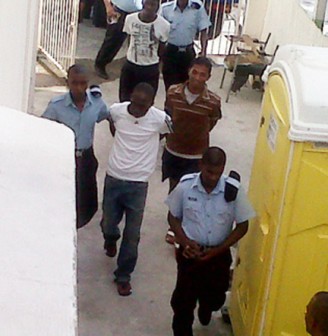 It was also alleged that on April 9, 2012, they robbed Leonard Archibald, Pratima Hansraj, Farzina Hansraj, Ethram Panswary and Joshua Jeewanram, at Good Hope, East Coast Demerara, taking a total of approximately $755,800 in cash and valuables. Allen and Kissoon were also charged with robbing Zalim Persaud of a quantity of cash and valuables amounting to the sum of $875700, on March 12, at Mon Repos, East Coast Demerara.
Police said yesterday that the victims were attacked and robbed as they arrived at their destinations in Georgetown and on the East Coast of Demerara, after having travelled from the Cheddi Jagan International Airport, Timehri.
None of the victims were present at the court, which was initially told that they were out of the country. But Police Sergeant Gordon Mansfield, who was prosecutor in the case, later informed that the victims are in the country and would be available to attend the next court hearing.
Attorney Adrian Thompson, who represented Allen and Kissoon, said both men had relatives in court and were the bread winners for their families.
He also said that when he visited his clients while they were detained, they both complained of police brutality and bore signs of physical abuse. Allen had bruises about his body, while Kissoon was bleeding.
Elliot's lawyer, attorney Satyesh Kissoon also alleged police brutality.
He also told the court that his client instructed him that he was not in the vicinity of the crime scenes and footage recorded at the Demerara Harbour Bridge on the days of the attacks would substantiate his alibi.
Magistrate Wilson subsequently granted bail to the men received with the condition that they are to report to the Brickdam Police Station every Monday at 9:30am. Their next court appearance is set for April 17th.
Around the Web