Be on your toes.  This is the message from AFC Chairman, Khemraj Ramjattan to opposition parliamentarians as a vote on the budget nears and as they plan to bring amendments to certain legislation in the future.
"We also have to be on our toes because we know, and I want to make this quite clear, we know of a strategy whereby government is now trying to buy two or three parliamentarians on the opposition side to just cut that thing: let us fall sick on a very important day for voting," he told an AFC-sponsored symposium on the 2012 budget yesterday at the Pegasus Hotel. "And it could very well be that on a certain day for voting you may find two or three opposition parliamentarians not being there and so the 33/32 goes to 31/32 so we have to be on our toes all the time. It is that clear," he said.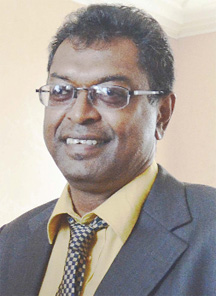 Ramjattan was at the time responding to a suggestion that the combined opposition who hold a one-seat majority in the National Assembly withhold their support for the budget until certain conditions are met. He pointed out that they have to work jointly with the main opposition, APNU. The budget debate is expected to end this week following which will be the consideration of the estimates of expenditures. Members of the opposition say they will demand certain concessions from the government and could withhold support if these are not forthcoming.
Womb
Meanwhile, former PPP Executive and now AFC parliamentarian, Moses Nagamootoo condemned the financial abuses being committed by the government. He said that he came from the "womb" of the PPP and expressed disappointment at what is happening and said that his anger and frustration is compounded by knowing that he was a "part of that gang."
"People now are understanding the kind of manipulation and `mammaguying' that is taking place with their money and so I think this forum is very, very useful," he said.
However, he pointed out that he would not want the opposition to use their majority for a "palace coup" because it is hard to sustain. He noted that the government could be ousted and a new election could be called but one has to be very careful given the multi-racial society of Guyana and what results can be produced from going back to the polls. He said that if they used the information that was shared at the forum, many more persons would understand the type of fiscal abuse that has been committed by government over the years.
Around the Web