The Ministry of Health hosted its first outreach exercise at the Masjid An-Najm and Social Center in Albouystown on Saturday, after expanding its partnership with the corporate community to provide free clinics to include religious organisations.
According to the Government Informa-tion Agency (GINA), the aim of the exercise is to provide these services to communities, particularly senior citizens.
The Masjid An-Najm and Social Center caters to the needs of both Muslim and non-Muslim persons. Several persons benefited from free general and eye care services at Saturday's exercise. Another exercise was also planned for the Masjid al Nur in La Parfaite-Harmonie, Region Three on Monday.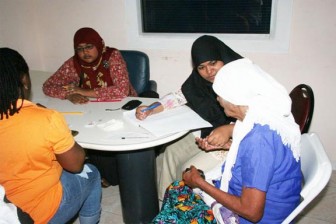 Minister of Health Dr Bheri Ramsaran was quoted by GINA as saying that many other religious organisations facilitate medical outreaches and he invited them to tap into this new initiative. In addition to medical care, lectures are also held on a number of public health issues. The minister also noted that soon one of the ministry's oral health caravans will be stationed in the community to provide dental care, in partnership with the Rotary Club.
Director at the Center Naeem Muhammad said that the ministry's outreach complements the charity's objective, which is to bring social services to the people. Muhammad said he hopes that similar exercises will be conducted more often and in order to facilitate this, an assessment will be done to determine the medical needs of the community in order to include appropriate services in other outreaches.
GINA noted that since the start of the year, the ministry has treated over 300 persons at free medical clinics it has hosted in partnership with private sector companies.
Around the Web