A collision at the Industry Embankment Road, East Coast Demerara left two schoolgirls injured yesterday afternoon.
Eyewitnesses said that around 4:30 pm, the two cars, HB 9249 and PKK 8876, were both going east along the road when the latter proceeded to turn without signalling, resulting in the collision.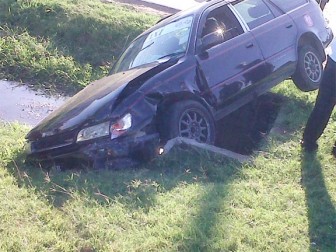 Both vehicles ended up in the nearby trench.
According to eyewitnesses, two school girls were seen being taken to the hospital after one hit her head with the impact of the collision while the other was seen limping.
Two drivers, meanwhile, were escorted away by the police.
Around the Web