Timehri Neighbourhood Market stallholders are at loggerheads with government over their relocation, with the vendors demanding compensation while Transport Minister Robeson Benn says they will not be paid and are to move by Monday.
Benn told Stabroek News yesterday that he had already met with the stall owners and informed them that his ministry will not be issuing any form of compensation for their removal, which is to accommodate the expansion of the East Bank's four lane highway at Timehri. He said there is, however, a pledge to build a market tarmac, equipped with sanitary facilities and an overhead shed for the vendors.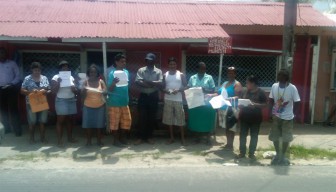 "We had meetings before and we indicated that we would help by building a tarmac with washroom facilities and a covered area for them to be established and that's what the arrangement is from my ministry," Benn said.
According to vendors, they have no problem with moving their stalls but if the government wants them to move, it must be willing to compensate them since they were granted permission by the Regional Democratic Council to erect permanent structures at the market.
"They pay GT&T and GPL to move their poles, so why they can't pay we to move our stalls?" questioned an irate stallholder as he pointed to an area of the road which once accommodated a utility pole.
The market has approximately 30 stalls and almost all are concrete structures equipped with electricity and telephone lines. All of the owners are to start relocating by the end of the month.
According to Mukesh Rajcoomar, who has been vending in the market for over six years, they went to meet with Minister Benn last October after they received notices that they will have to move by April 30, 2012. Upon meeting with him, they were told that they would have to prepare a letter seeking the forms of assistance needed to have them moved and rebuild and they did as they were instructed.
"We went and reach Benn late last year. We tell he how we come fuh ask for some assistance fuh build back the market and he said prepare a letter and send it to him, so we did that but are yet to hear anything else from he," Rajcoomar related.
The vendors said that they accept the government's plan for the road extension and are willing to move but they need some sort of financial assistance to do so or else they will be unable to move. At the same time, some said there is no need for the road expansion, because there has never even been a traffic jam leading up to the airport at Timehri.
Another vendor, Drupati Hargobin, who has been selling at the market for over 15 years, said that her understanding is that the road would not be hindered by the entire market centre. She added that only the front row stalls, which include her two stalls, would be a hindrance to the road project, so they are the only ones that should be moved. "Look at Eccles and by the Harbour Bridge, the road is there and at the edge people still selling, so why they can't flex with awe," she said.
Many of the vendors at the market are single parents who depend on daily sales as their single source of income. Some see the move to relocate them without compensation as one that may push them deeper into poverty.
When questioned about her options if her stall is demolished and she is forced to move, a single mother of five said, "We gon got to go hungry because we ain't working nowhere else and the children can't go to school." She added, "I don't think the government gon do that, I guess that they got lil conscience, you know."
Around the Web