Two baggage handlers have been charged with drug trafficking over the cocaine find on Thursday at the Cheddi Jagan International Airport Timehri (CJIA).
Cousins Ray Pollard, 21, and Mark Pollard, 19, were arraigned on the joint charge before acting Chief Magistrate Priya Sewnarine-Beharry yesterday at the Georgetown Magistrates' Court.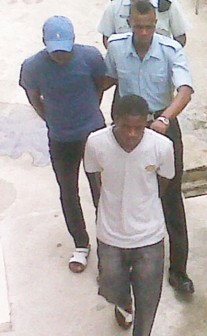 The men, who were among five Timehri Handling Services workers held after the discovery was made by Customs Anti-Narcotics Unit (CANU) officers, pleaded not guilty. There were both refused bail.
The court heard that on Thursday, April 26, at the CJIA, the Pollards had in their possession 4.512 kilogrammes of cocaine for the purpose of trafficking.
Police prosecutor Sergeant Lionel Harvey said that a CANU officer spotted Mark Pollard, in a bulky looking black jacket, walking through the airport's arrival entrance.
The officer, who became suspicious, observed him going to Ray Pollard and handing over a bag. The officer subsequently approached them and conducted a search of the bag, which uncovered four rectangular parcels that contained what was suspected to be cocaine. Several arrests followed.
Asking for bail, attorney Mark Waldron and Gordon Gilhuys, who represented the Pollards, questioned why five persons were held if their clients were the only ones clearly involved.
They suggested to the court that based on the apparent manner in which the CANU officers operated, all the airport security guards would need to be arrested.
Harvey, in response, said that the other suspects had been assisting with the investigation prior to their release.
The Pollards, who both have no criminal records, according to their lawyers, were remanded and the case transferred to the Providence Magistrates' Court for April 30.
A source had told this newspaper that baggage handlers have been under surveillance by anti-narcotics agents at Timehri after a previous discovery of cocaine this year.
In March this year, police discovered 10 kilos of cocaine, which was thrown over the perimeter fence at the CJIA. No charges were laid in that matter.
An anti-narcotics agent subsequently told Stabroek News that the drugs may have belonged to a drug trafficking ring that is using aircraft ground handling staff to sneak drugs on to outgoing flights.
He said that the well-organised ring of drug traffickers may have been operating at the CJIA recently in coordination with persons in other countries.
Around the Web