This scourge replicates itself in other parts of the country and falls afoul of International Labour Organisation conventions on the minimum age of admission to work and the worst forms of child labour.
The young Berbicians work mostly as fishermen while others work as labourers at places including factories and sawmills although they are not provided with lifejackets or any other forms of protection.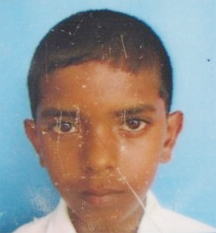 Two of the most recent cases of youths losing their lives while working at sea were as a result of murder; another died by drowning three years ago.
Fernando 'Rakesh' Singh, 17, of Bush Lot, Corentyne as well as his employer, Pooran Mathoor, 39, of Cromarty were apparently murdered on January 8, 2012.
On September 5, 2011 Renard Fernandes, 15, of Rose Hall Reef along with the captain of the boat, Beeram Motee Lall was doused with a flammable substance; they succumbed a few days later at hospital.
Seventeen-year-old Stefforn Bacchus was murdered after he left his parents' Kortberaad, East Bank Berbice home to work as a cane-cutter at Jackson Creek, Corentyne.
A labourer at a sawmill, David Smartt, 19, who started working from the age of 11, was electrocuted on August 23, 2010 on the job.
And in February 2009, Lakeram 'Baby Boy' Mohanlall, 17, of Kilcoy Squatting Area drowned when the boat that he and his 19-year-old captain were in capsized.
Fernando and Mathoor left for sea on January 7 and were expected home the following day but their bodies were discovered on January 9 and 10.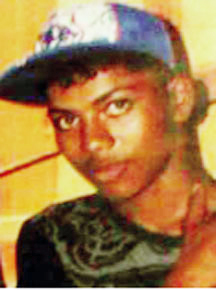 Fernando's mother, Kalawattie Singh said when her son's body was discovered his hands and feet were bound. A post-mortem examination also proved that he suffered severe injuries to his head; Mathoor's body also bore marks of violence.
Unsolved mystery
A worker, Ravendranauth Mohanlall called 'Fred' who reportedly burnt Renard and Lall was charged with their murder.
In the case of Fernando and Mathoor though, their murders remain another unsolved mystery. Two suspects were arrested but were released without being charged.
Fernando's mother, Kalawattie Singh known as 'Gully' is still unable to cope with her son's death since he was the main provider for her and his siblings.
She told this newspaper that after she was separated from her abusive husband she "tek he out from school" at age 14 when he was only in second form to assist her in her cash crop farm.
He was the second of five boys and his eldest brother was undergoing training as a mechanic and was not earning. Singh who also works as a domestic lamented that it was never her desire for her son to work at sea.
She said she begged him many times to quit and learn a trade like his brother because "sea work is life and death" but he enjoyed going to sea and besides, he found that job more lucrative.
He insisted that he would be okay and kept asking her "how long abe guh punish?" His aim, she said sadly, was to work and make their lives more comfortable.
Shortly after dropping out of school he also started to "do fishing work" with a neighbour, then with another fisherman from Maida Farm. Eleven months ago he started working with Mathoor.
The woman recalled that the suspects who were arrested had old grievances with Mathoor. They were also engaged in a recent dispute at sea over a fishing seine during which the suspects threatened to "manners ayuh."
A few days after the discovery of the bodies, she said, the boat was found at the mouth of the Berbice River with the fish [which was spoilt] and everything else intact, expect Mathoor's phone.
Snuffed out
Renard's mother, Indrawatie Sookdeo expected her son to return safely as he always did but instead, his life was brutally snuffed out.
She is still grieving his loss and is finding it very difficult to get over how he met his demise. "Ah crying night and day fuh me son. He didn't deserve to die like that…"
The woman said too that, "It is not easy to lose a big son like that who could give you something. Whenever he worked for a little money he would come and give me."
He also helped his mother, a fish vendor, "to take fish to the market to sell" and to do chores in the mornings.
Sookdeo lamented that her son enjoyed going out to work at sea "but ah never knew it woulda end up like this." She "always gave him courage; ah never bruk his mind because he liked doing it."
From a young age he assisted his father, Ricardo Fernandes, 50, who was employed with fishermen, to mend seines.
She felt her son would be safe because his father started "fishing wuk since he was a young boy and he never encountered any problems."
He insisted that he wanted to help her financially because the money that she and her husband worked for was "not enough." He used his money to assist her in purchasing school supplies for his younger siblings.
She said Renard was "doing well at school" but started going out to sea to work a few months before he met his demise.
Stabroek News had contacted the owner of the boat, Bridgelall Hardyal, 29, known as Anoop of Chesney Front about allowing the boy to go at sea at that age. He had responded: "with fishing work you don't ask for age and they [boys] don't come with ID cards. They just jump in the boat and go."
Hardyal had also pointed out that "about 20 underage boys are working at the Albion shore," noting that that is not the "right thing to do but times are hard and everybody trying to make a living."
Provoke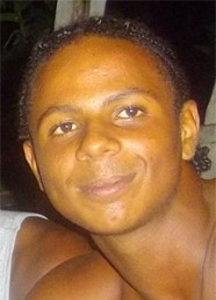 Stefforn whose neck was almost severed was in the habit of "making rough jokes" and he and his teenaged attacker who was also his close friend would provoke each other.
But on that fateful day, his friend was apparently not in a mood to be joked at. After having lunch they both took a rest in the same camp and were preparing to return to the canefield to work around 2:30 pm when "the provocation started again."
Stefforn was sitting on the stairs putting on his boots when the suspect, Royston 'Junior' Mc Allister allegedly came from behind and "chopped his head off," their employer, Rabindranauth 'Mary' Prasad had told this newspaper. He was subsequently arrested and charged with the offence.
An aunt, Lovern Durant told this newspaper that Stefforn, the third of six siblings did not have the cause to leave home to engage in such hard work.
She said his parents: Carolyn Edwards and Ivelaw Bacchus who are both employed at the Providence sugar estate as weeder and cane-harvester respectively "tried their utmost" to ensure that their children got an education.
The parents would leave home at 6 am and return at 3 pm and then they would tend to their cash crop farm, just to make ends meet.
Stefforn who attended the Vryman's Erven Secondary School in New Amsterdam dropped out at age 15 although "his mother pleaded with him to stay in school."
Lovern said too that it was not a case where Stefforn had to be so far away from home at that age; he just chose to go. She said he would give his parents money but loved to spend on "fancy clothes because he wanted to look good."
His mother tried to stop her son from going to work so far. "It was never her idea for him to take the job; she did not think he was old enough," Lovern stressed. But he insisted that he had to go with the other boys.
His grandmother, Stella Durant, 73, also told this newspaper that she was very attached to the boy who had to pass through her yard to get to his house at the back and would "call out to me every time."
Just before he left home to go back to work, Stella said she tried to tell him "not to go so far to work… but he just laughed." Two days later she received the distressing news.
Reports are that many other under-aged youths from the area were employed at the sugar cultivation but many of them quit after Stefforn's murder.
Sawmill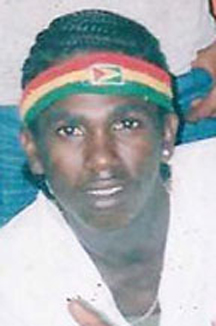 At just 11-years-old, David Smartt, 19, of Welcome Street, Rosignol, West Bank Berbice started working at a sawmill in the village to provide for his mother and two older siblings. He was electrocuted on the job.
His mother, Pamela Smartt told SN that life was tough and her son dropped out of school before writing the Common Entrance exams to assist her in providing for the home.
She said he "loved to assist me and he grow that same way until his death. He was always a loving and caring boy… And he was always willing to do anything for anybody." She learnt that at the time of his demise he was smoothing wood with the plane."
The woman acknowledged that "there are lots of single parents so that is why so many children start working from such a young age.
Lakeram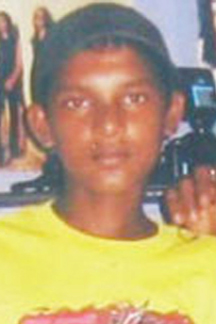 In February 2009 another lad, Lakeram `Baby Boy' Mohanlall, 17, of Kilcoy Squatting Area lost his life by drowning  while working at sea.
He was with the 19-year-old captain, Dharmendra 'Dinesh' Shiwpersaud and the two had been pulling in the seine when the boat capsized at around 6:30 am.
Dharmendra clung to the rope for more than a day until help came but Mohanlall apparently fell asleep and "float out de boat…" a few hours after the incident, bringing an end to his desperate battle to survive.
The two were about six miles off the Corentyne shore when, according to the captain "a big wave come and lash the boat and it start to take in water."
Lakeram's mother, Kamlawattie Bharrat said he was "minding me and doing everything fuh me. He used to give me some money he wuk for and he would use the rest to buy clothes and so for heself."
She related that she never really wanted her son to work at sea but decided to allow him after he insisted and told her it was "fun" for him to catch fish. She also did not realize that the job was so risky.
His older brothers [who were married], knew the dangers of the sea and tried to stop him while his stepfather attempted to get him involved in a job as an apprentice but he refused and told them he liked what he was doing.
According to the woman her son dropped out of school at age 13 because he was not performing well. Since then he started going out to sea "once in a while" until he get employed by the owner shortly before the tragedy.
The Guyana Government is committed to several international conventions on child labour. The International Labour Organisation adopted Convention 138 – Minimum Age for Admission to Employment in 1973, determining that no child under 15 years must be employed and the Convention 182 – Worst Forms of Child Labour, adopted in 1999 prescribing that persons 15 to 18 years can work but the work must not be injurious to the health and safety of the worker. Guyana also amended its Education Act to make 15 years the compulsory school age and the Employment of Young Persons and Children's Act to change the minimum age for employment to 15 years.
The government established the National Steering Committee on Child Labour in Guyana ?  a subcommittee within the Ministry of Labour, Human Services and Social Security ? initially chaired by Varshnie Singh in September 2003. That committee was tasked immediately with the selection of a location for an action programme to be executed under the ILO-CIDA Regional Child Labour Project which followed the evolution of Convention No. 182 on the Worst Forms of Child Labour. This convention urged ratifying governments to take immediate and effective measures to secure the prohibition of the worst forms of child labour as a matter of urgency. Guyana ratified the convention on January 15, 2001.
Around the Web