Brazilian miners, who want government to reform the protracted immigration process, yesterday formed an association to support their countrymen in obtaining legal residence and understanding mining in Guyana.
The Brazil Mining and General Association (BMGA), an organisation based in Georgetown, was last  evening formed after hundreds of miners turned up at a meeting at Robb and Cummings Street to voice concerns over the recent "Operation El Dorado," a law enforcement exercise that  saw over 94 miners deported and many others detained. The Guyana Geology and Mines Commission (GGMC) had explained that the miners did not have the requisite documentation to work on Guyana's soil.
However, most of the miners yesterday bemoaned the current immigration system, saying that their permits take as much as three years to be processed and in the interim they are not given any documentation to prove their legal residence. Some also complained of often being scammed by Guyanese nationals, including persons from law enforcement agencies, who promise to get them permits for exorbitant fees but deliver bogus documents instead.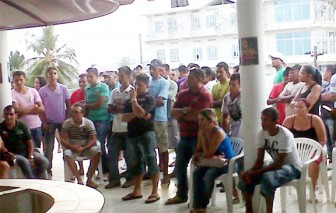 "We have formed this body to make representation and help the thousands of Brazilian miners here in Guyana who are being taken advantage of by con artists, who charge them sometimes up to $400,000 for fake documents and to be of assistance to those who need answers to questions about mining here in general," Secretary of the organisation Antonio Szala yesterday told Stabroek News.
Work permit fees are currently $30,000 per year per person.
Immigration was the main concern of the miners at the meeting and many complained, during a fiery discussion that was translated into English, that they were being treated unfairly by the Guyanese people. "There are over thousands and thousands of Guyanese living in Brazil, many without any documents, and you don't see us deporting them in numbers… the Federals (the federal police force of Brazil) give them [a] break and a chance to get their selves in order. Here, we are treated badly and when you don't pay they lock you up," said one of the miners.
President-elect of the organization, Marilde Carvalho said it intends to stress the importance of going through the correct immigration channels even as it would seek government's intervention to reform the current process for Brazilians. "We know they are frustrated but we are letting them know, look, do the right thing, go through the right process, get registered and do it legal, we will help so there will be no need to get conned," she said through a translator.
The Guyana Gold and Diamond Miners Association (GGDMA) will be the umbrella body from which the group operates. It will be assisting the GGDMA in dealing with the current language barrier that has caused many Brazilians to stay away from its meetings.
The Ministry of Natural Resources and the Environment and the GGMC in collaboration with immigration authorities has recently been carrying out raids in Guyana's gold and diamond mining areas against illegal mining.
From those exercises, close to 100 persons were detained and several deported for what immigration says was failure to produce work permits, certificates of registration and breaching mining regulations. Many of them  had also overstayed their time in Guyana.
Around the Web