Attorney Gino Persaud was last month elected as the new president of the anti-corruption non-governmental organisation (NGO) Transparency Institute Guyana Inc (TIGI).
press release from the organisation stated that at the first Annual General Meeting at its headquarters located at 157 Waterloo Street, Georgetown on April 27, Chantalle Haynes was elected First Vice President and former auditor general of Guyana, Anand Goolsaran was elected second Vice President.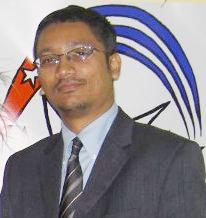 The other directors who were elected were Attorney Nadia Sagar (outgoing president); Dr Arif Bulkan, lecturer in law, University of the West Indies; Frederick Collins, who will be performing the functions of TIGI secretary;  Journalist Enrico Woolford; Fr Compton Meerabux; Economist  Dr Thomas Singh; consultant Esther McIntosh and Slydell Glenn.
TIGI is an affiliate and national contact of Transparency International, the world's leading anti-corruption organization, the release said.
During the meeting, Sagar reported on the activities of TIGI for the last year, which included the fortnightly publication of articles in Stabroek News on governance, transparency, accountability, fundamental freedoms, legislative reform and international anti-corruption movements; the hosting of seminars on Freedom of Information and the Transparency International Corruption Perception Index;  an analysis of Freedom of Information legislation with specific reference to the Article 19 model and an analysis of the Access to Information Bill which later became the Access to Information Act of 2011 and appearance before the Parliamentary Select Committee established to review stakeholder submissions.
Members were also updated on a Citizens Charter Workshop which was supported by the Canadian High Commission.
Persaud, according to the release, noted that in terms of the goals of TIGI the road ahead is filled with challenges. He said there is no shortage of work to do.
He urged more citizens to come on board to support TIGI in its work and by speaking out publicly on issues on transparency. Persaud expressed the hope that the membership of TIGI would continue to increase.
The new president also took the opportunity to thank Sagar for her courage in readily agreeing to be the first president of the "fledgling anti-corruption entity" and for her efforts together with the board in sustaining important work throughout last year.
TIGI invites all citizens concerned about transparency, accountability and anti-corruption in Guyana to join and help the organisation to achieve its objectives, particularly those citizens who have skills in these areas.
TIGI is located in the secretariat of the Private Sector Commission in Waterloo Street, Georgetown.
The telephone number is 231-9586 between the hours of 9 am and 12 noon and the email address is trans.inst@yahoo.com
Around the Web