A taxi driver died yesterday morning when he collided with a motor lorry along the Friendship Public Road, East Bank Demerara.
Richard Smith, 28, of Lot 176 Barr Street, Kitty, was pronounced dead on arrival at the Diamond Diagnostic Centre around 7:30 am.
According to a police press release, the accident occurred around 4:15am. This newspaper was made to understand that the man was pinned in the wrecked car, HB 166, for some hours.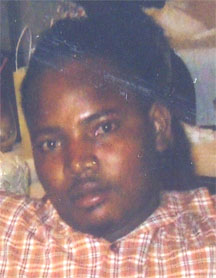 Police said that Smith was allegedly driving at a fast rate when the car ran over an accumulation of water causing him to lose control. The police further stated that the car ended up in the lane of the motor lorry which was travelling in the opposite direction.
According to sources, the Toyota Raum was seen speeding when it lost control in the vicinity of Didco. It was in an effort to swerve from the pool of water that the man landed in the path of the truck, causing the collision, this newspaper was told.
At the dead man's home, his mother Yvette Smith said she heard of the dreadful news around 5:30 am when she received a telephone call from the taxi service her son was attached to, Sunset Taxi Service.
"The base call me and said he was in a collision…an accident. We put on our clothes here and went up but by that time the police de already remove the car and the body and carry it to Lykens. Just the sand truck was there," she said.
She explained that her son was hired to travel to the Cheddi Jagan International Airport, Timehri and was returning to Georgetown at the time he met his demise.
"It was when he was coming around the Didco turn… the road had water and the rain was falling and they were trying to avoid each other… they probably couldn't see properly," she suggested.
At the Grove Police Station, she said, the vehicle could be seen badly damaged.
The driver of the motor lorry remains in police custody assisting with the investigations.
Around the Web