Relatives of 42-year-old Andre Thompson, who died early Saturday morning when a tug belonging to the Oldendorff Carriers Guyana Ltd ran over a small launch he was asleep in at De Veldt, Berbice River plan to meet with officials from the company to seek compensation.
The man's wife, Sandy Thompson, yesterday told Stabroek News that the sudden and tragic death of her husband has now left the family of four without its bread winner. The woman who is a housewife said she is expected to meet with company officials today and said she plans to seek the assistance of a lawyer.
Efforts by Stabroek News to get a comment from officials at the company proved to be futile.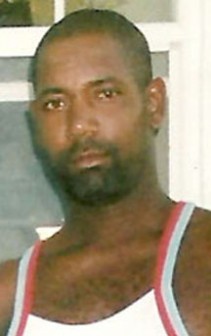 Mrs Thompson said all three of their children, ages 19, 17 and 13, are still in school as the two older ones attend the New Amsterdam Government Technical Institute while the youngest is a student of the Bushlot Secondary School.
"We trying…we deh trying to make out but it will be very hard," the grieving woman said yesterday.
Meanwhile, her brother Richard Lepps, who owns the launch, said that the boat is partially destroyed as the bow and the cabin section are badly damaged. He said it cannot be worked in that condition and he has no other boat to ply his grocery business. He said he has since received a call from officials of the company and he is expected to meet with them today.
And this is not the first time Lepps has lost a boat in this manner as about two years ago a tug belonging to the same company ran over another boat of his at Wiruni, Berbice River. He said that boat was destroyed and while he had received some compensation the money the company paid was less than the cost of the boat.
At that time Thompson was also on the boat as he was the captain and there were other workers too. Thompson had also suffered injuries in that accident.
The accident that took the life of Thompson who is also known as 'Steer' happened at around 4:30am on Saturday. Reports are that the captain of the tug, which was pulling two pontoons, had dozed off and did not see Thompson's boat in time to avoid hitting it. Thompson's body was found out of the boat, stuck between some bushes. His wife had told Stabroek News that it appeared that after he was hit he was trying to reach the shore.
The man had left home last Monday and was expected to return yesterday. He worked for Lepps supplying groceries in the Berbice River and it was customary for him to stop at De Veldt, about 50 miles up the river, to rest on his way back.
Around the Web