Traffic along the Demerara Harbour Bridge (DHB) slowed to a crawl yesterday afternoon after sections of the anchorage system at the structure malfunctioned.
General Manager of the DHB, Rawlston Adams told Stabroek News yesterday afternoon at the Peter's Hall location on the East Bank of Demerara (EBD) that traffic had returned to normal at the time and he noted that the anchorage system at the retractor span had experienced a mechanical problem the day before.
He said that the problem was being attended to since but because it was a holiday weekend the problem had to be fixed manually with depleted staff. He said that the structure will be further examined today and according to him, the bridge will not retract at the scheduled 5:30am retraction time.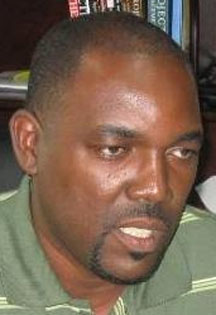 Along the roadways leading to the bridge there were long lines of traffic as motorists expressed frustration at the situation.
Last week Adams told Stabroek News that rehabilitation works on the eastern hydraulic ramp at the DHB had been completed and the bridge was ready for operational use. It was also reported that plans are in place to have works commence on the western ramp in a few weeks.
He had said that plans for the maintenance on the western ramp will depend on the decisions made by the shipping agents and mariners at a meeting last Thursday.
He noted that the rehabilitation works were completed way ahead of the scheduled seven days and he explained that when works commenced last Sunday, the maintenance staff were able to remove and replace the southern half of the eastern ramp and that allowed them to accommodate double lane traffic last Monday morning.
He said that the estimated cost for the rehabilitation works was well over $40M and that came from their previous budgetary allocation.
In the next 2-3 months 150 anchor blocks will be installed at the bridge and two large pontoons will be placed at the retractor span.
While this will not affect vehicular traffic, marine traffic will be affected since the bridge will be unable to retract.
Around the Web