Police say they have found the car that struck down 52-year-old fish vendor Baldeo 'Painter' Mohan on Saturday last at La Grange Public Road, West Bank Demerara (WBD), but not its driver, who reports said, fled the scene.
According to a police official, the car PMM 2632 was found parked at Best Road, West Coast Demerara with a piece of its bumper missing. The official told Stabroek News that when the car was taken to La Grange Police Station, the piece of the car bumper recovered at the scene of the accident matched the missing part on the vehicle.
The owner of the vehicle Mark (only name given) told police that he had loaned his car to his employee Imran (only name given) and it was returned with the missing part.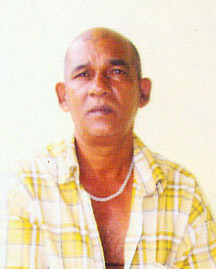 He added that when he questioned his employee he was told that the vehicle had collided with a cow and as result it was damaged.
Imran, who was residing at Bella Dam, Pouderoyen WBD is reportedly on the run since he was informed that the police needed him for questioning.
A post-mortem examination was expected to be performed on Mohan's remains but Pathologist Dr Nehaul Singh had to go Berbice so the PME will be performed when he returns tomorrow, according to the man's brother Roop Mohan.
Mohan of Lot 33 Doctor Dam, La Grange WBD left his home some time around 2 am to purchase fish at the Goed Fortuin Koker. While riding in the vicinity of Rambo Shop, La Grange, he was struck by a car and flung several yards away to the edge of the trench.
The car fled the scene and his lifeless body was discovered some time around 5 am on Saturday by residents in the area.
Around the Web